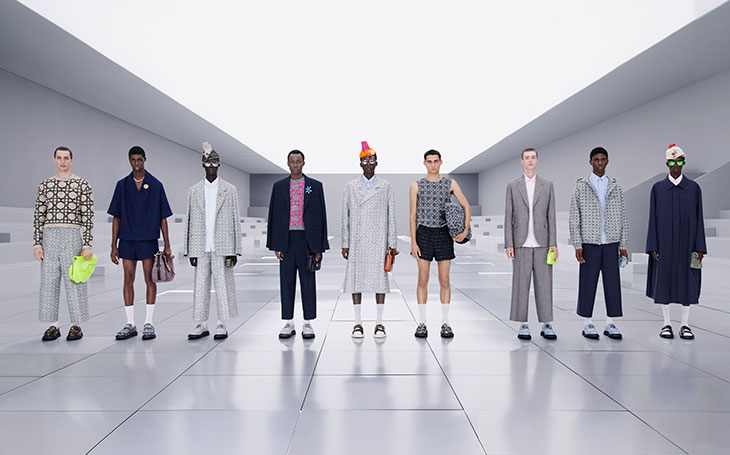 Dior Men's Spring Summer 2024 collection draws inspiration from a range of influential figures, including Yves Saint Laurent and Gianfranco Ferré, incorporating their distinctive silhouettes and intricate embroideries.
SPRING SUMMER 2024 COLLECTIONS
Monsieur Dior's iconic cabochons and Marc Bohan's textured designs also contribute to the rich tapestry of influences. This fusion of diverse elements and pop iconography takes shape in a captivating presentation, set in a mechanical garden of 'hommes fleurs', where tradition and subversion coexist harmoniously.
The collection effortlessly transcends boundaries, embracing both feminine and masculine aesthetics, seamlessly blending salon elegance with street style, and paying homage to the timeless New Look while embracing the innovative spirit of the New Wave.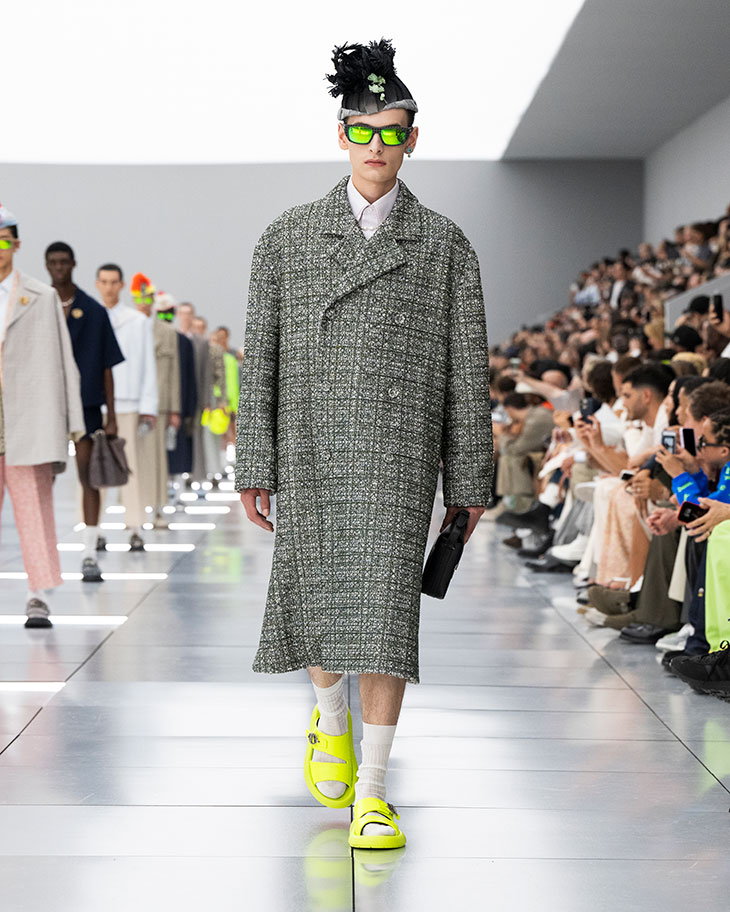 Dior is an haute couture house: it is all about the clothes. At the heart of Dior is silhouette, shape, technique, and fabrication of the very highest order. I like to think that in my five years of being here – this is my fifth-anniversary show and collection – I have never forgotten this. It's a culture we have inherited from womenswear past and applied to menswear present. And for the first time in our collections, it is a collage of influences from different Dior predecessors and eras we wanted to pay tribute to at once – together with some of our own. All are connected through texture and technique alongside some of the Dior pop icons, particularly the cannage.
– Kim Jones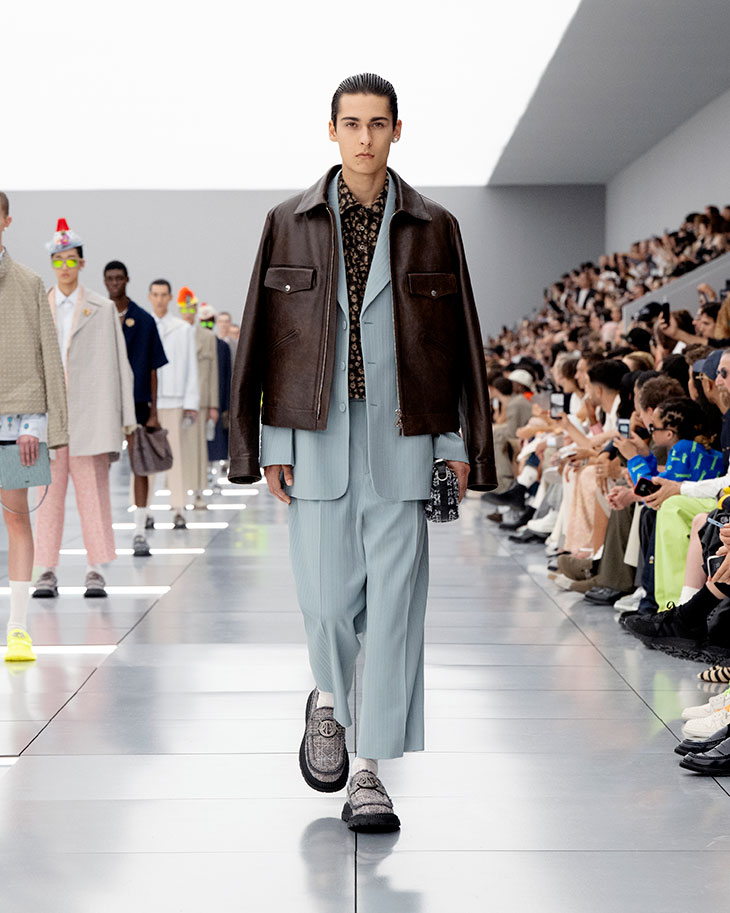 Kim Jones' fifth-anniversary show and collection at Dior celebrate this amalgamation of personal and historical narratives. While Yves Saint Laurent's silhouettes remain a strong influence, they are reinterpreted and transformed to reflect Jones' artistic vision. The collection intertwines the histories of men and women, fusing British tailoring traditions and materials with the refined craftsmanship of haute couture, showcasing the seamless fusion of menswear and womenswear.
The designs exude a sense of modernity, practicality, and playful sophistication. Each garment combines luxury and utility, infusing seemingly ordinary menswear items like the Harrington jacket, polo shirts, crew necks, and cardigans with symbolic techniques that transcend time and styles, such as tweeds, embroideries, and the iconic cannage pattern. The collection also pays homage to Yves Saint Laurent's tailoring heritage, highlighting the voluminous shapes, vents, pleats, and necklines from his historic 1959 collections.
These elements effortlessly merge with relaxed masculine suiting, summer ensembles, and sweeping coats. The footwear draws inspiration from the iconic Lady Dior bag of 1995, featuring a new circular logo on heavy-soled loafers and slides that evoke the rebellious spirit of the New Wave era. The collection offers a diverse range of bags in various shapes, colors, and textures, from vibrant fluorescent saddles to sophisticated cognac cannage satchels, as well as utilitarian tweed rucksacks and rolled leather sandwich bags.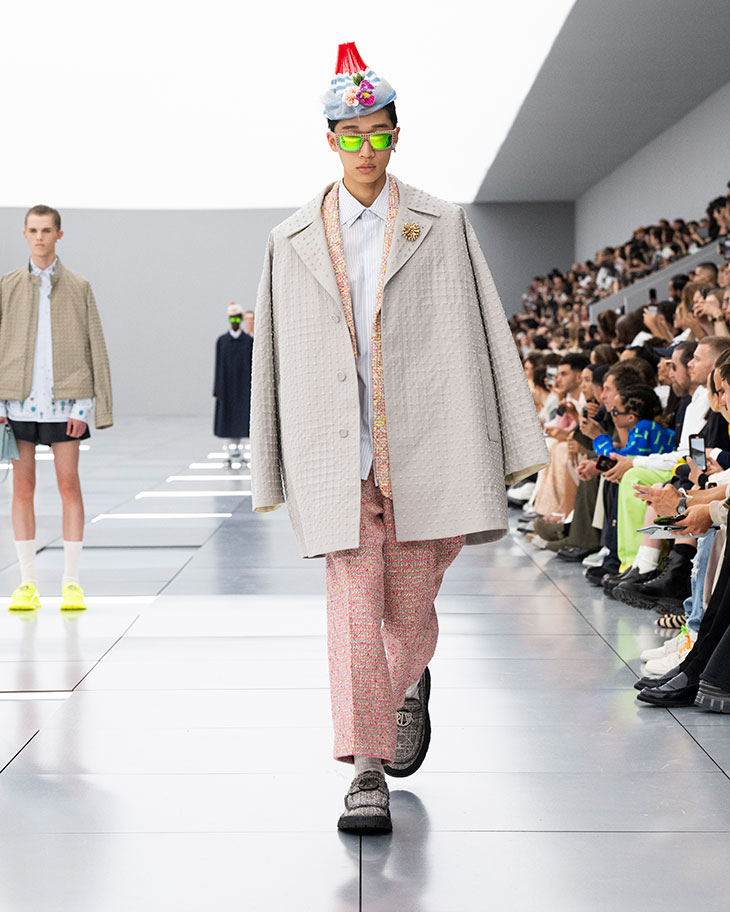 Renowned milliner Stephen Jones adds his touch to the collection with fashion-forward New Wave beanies that pay tribute to liberty caps, adorned with exquisite velvet flowers known as 'Ronghua', which have a rich history dating back to the Tang Dynasty in China. Collaborating closely with the Dior ateliers, the Ronghua masters have adapted their traditional techniques to create a contemporary elegance that resonates with the collection's color palette. The collection seamlessly weaves together a tapestry of influences, celebrating the timeless legacies of fashion while embracing the spirit of today.