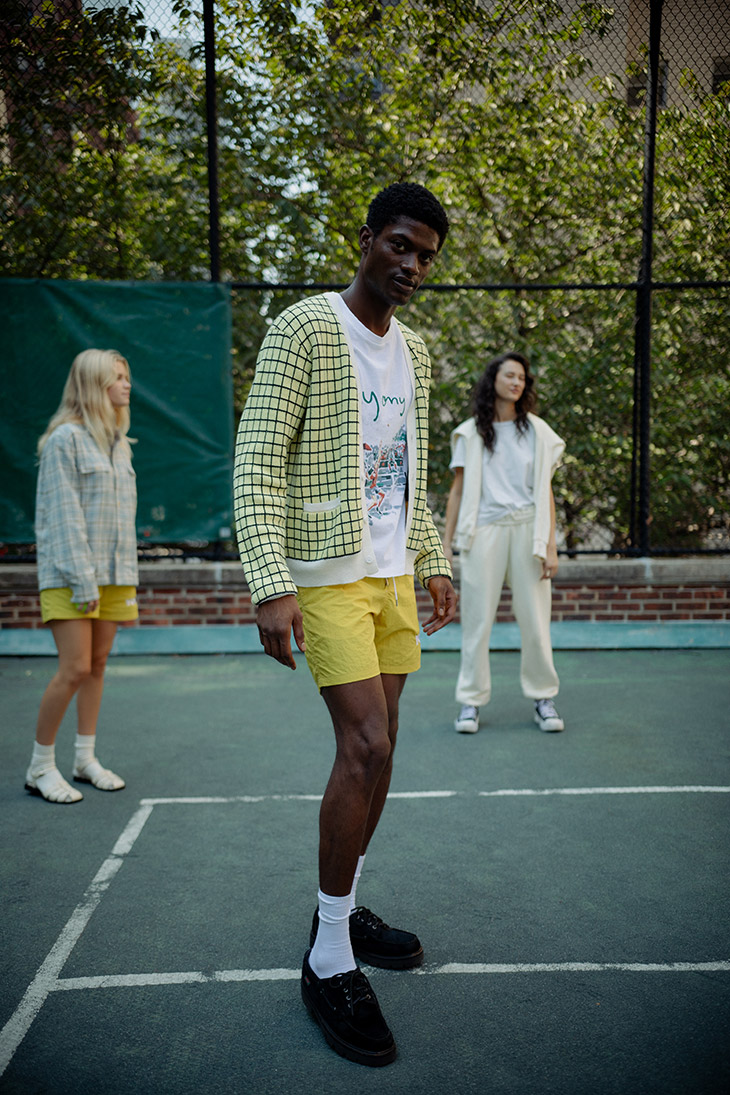 Fashion brand YONY made an impactful debut during New York Fashion Week as it commandeered the exclusive Town Tennis Club, an oasis nestled in the heart of Manhattan, on Thursday, September 7th. This extraordinary location set the stage for their Spring Summer 2024 Collection.
SPRING SUMMER 2024 COLLECTIONS
Channeling the essence of tennis, a prominent theme in the brand's ready-to-wear line, Yony fused elements of sportswear and performance wear to create a captivating presentation. The models took center court, donning striking contrast stripe ensembles, basket weave separates, supima cotton chinos, and rugged canvas workman shirts. Amidst this athletic aesthetic, summer knits in vibrant yellows interjected an air of sporty sophistication. Timeless tennis sweaters and cardigans adorned with hand-painted tennis scenes and a meticulously contrast-stitched portrait of designer Johnny Schwartz's father paid homage to the deeply personal roots of Yony's designs.
Johnny Schwartz, the visionary founder of Yony, reflected on the brand's journey, saying, "I started Yony with a creative foundation rooted in the styling of the era that my dad grew up in – 1950's Brooklyn. As with every season, it must reference ideas and thoughts close to my heart. Beginning with Spring/Summer 2021, I introduced the "Yony Racquet Club" motif. The "club" that I am building will emulate the Saturdays I spent watching my dad and his buddies play tennis, drink coke and shoot the shit. This season, Spring/Summer 2024, strengthens the relationship the brand has to tennis, why the sport should be cooler than it is, and finally, the authentic connection I personally have with the game. Today the sport is tossed around as a visual aid for brands to acknowledge and abandon. I want to share my love for tennis by creating products and telling a genuine story that enhance the sport and the fashion associated with it."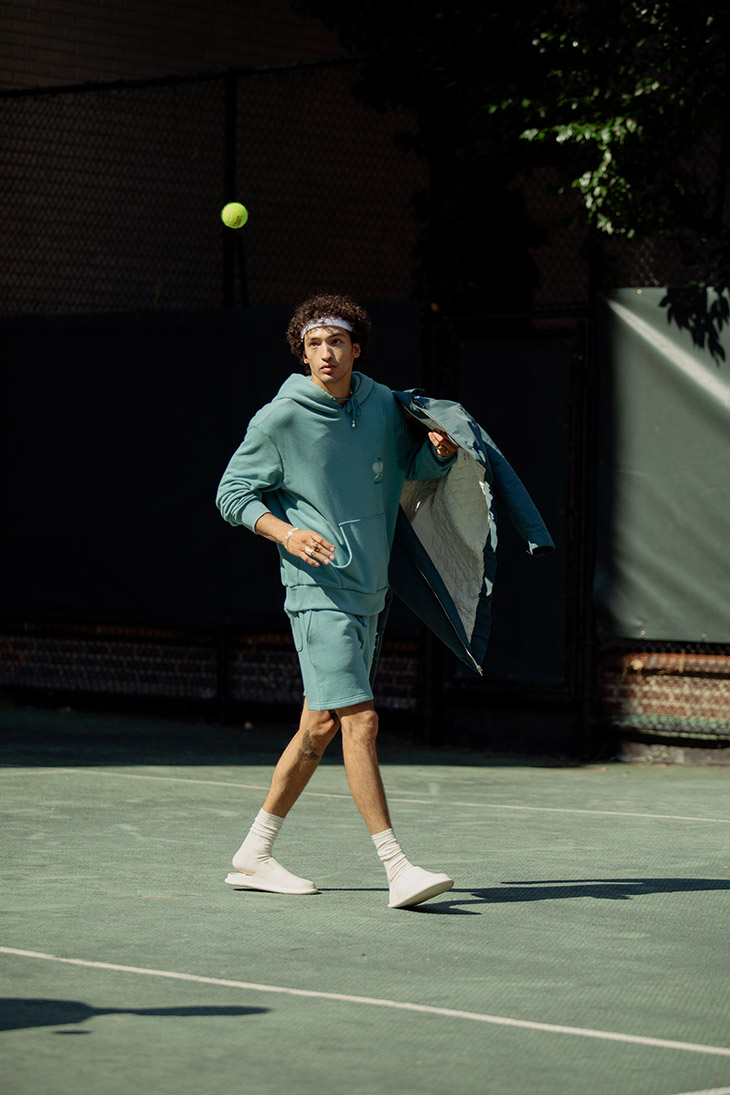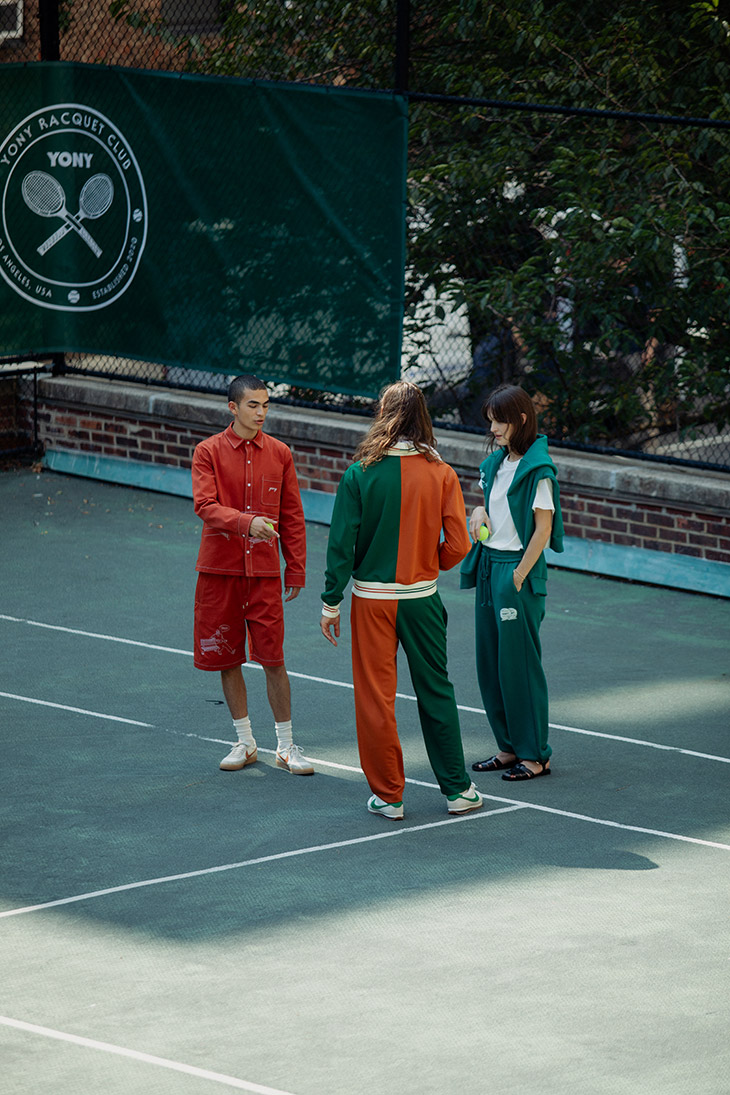 Adding an extra layer of excitement to the presentation, tennis athletes, impeccably dressed in Yony's Spring Summer 2024 attire, engaged in mini matches reminiscent of the US Open, delighting guests. They sipped on refreshing HoneyDeuce cocktails and iced teas while basking in the warmth of an end-of-summer sun, creating an atmosphere that truly encapsulated the spirit of the Yony brand.
Yony, at its core, is committed to revolutionizing menswear by infusing sophistication and transparency into the industry. The clothing offered by Yony represents a refined take on Americana, drawing inspiration from the 1950s and breathing new life into a classic look. Sustainability is a key principle, with Yony ensuring that whenever possible, their fabrics are sustainable and produced entirely in the United States. They maintain a close partnership with vendors to ensure that materials sourced abroad are transformed into high-quality products in their country of origin, thereby upholding their commitment to a transparent and ethical supply chain.