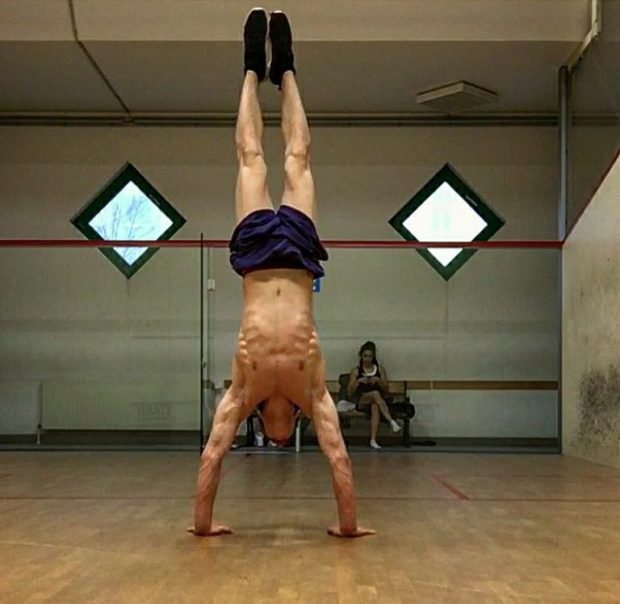 Today people see fitness and staying healthy from a variety of perspectives, the domination of social media resulted in an interesting mix between various fitness routines. Athletes are not the only ones anymore doing gymnastics, today working out is a mix of cross-fit, triathlons , parkour, running and even Olympian like weight lifting falls into the mix. Image Augusta Alexander at Wiener Models @augusta_alexander
Finding new and more interesting ways to stay in shape and remain healthy, get that six pack and cut muscles can often become more stressful than you imagined. Even if you do not work in the fashion industry as a male model, the stress to maintain a picture perfect body is hitting us all, men and women. The social media is a constant bombardment of six packs, fit thighs and people showing off their healthy lifestyle and glowing skin. This sadly resulted in the essence of working out vanishing, and that goal everybody needs to get back to their workout is – fun!
#01 STOP OBSESSING OVER YOUR LOOKS!
In the seventies and early eighties the so called 'pumping iron' phase, included round ball like biceps and one digit BMI, you could consider yourself fit only with both under your belt. The Body Mass Index till this day plays an important factor with people actively working out. However, unfortunately not everybody realises it is hard to stay in shape and muscled and that it is a process taking years. The latest research by the NCAA – the National Collegiate Athletic Association revealed the facts going against the single digit BMI.
Matt Law at NEVS Model Agency in London; Image @mattclaw
Even when it comes to professional athletes, the single digit body mass index is extremely rear. For example, the average percentage of body fat of sportsmen in the NFL the national rugby league in periods from 2007 to 2014 , was almost 13 percent. Numerous studies have been written in the past on this topic, by various universities as well as health professionals. Related – students in the health industry often have to discuss these sort of topics, therefore if you are working on perfecting your essay writing skills or a dissertation on this health topic you may want to try out various online custom writing services.
Furthermore, overtly muscular body – the like you are seeing in various supplement adverts, is not only something impossible for the most, it's also not necessary to be successful even as a professional athlete let alone if your goal is to only stay in shape.
To sum it up, stop obsessing over the Instagram feeds of the 'gym rats' you are following, instead focus on your own workout. Do not fool yourself, people with millions of followers on their social accounts are very mindful over each and every of their posts. No doubt they are using Photoshop as well, the excessive use of photo enhancing programs is regular in fitness magazines, in addition to good lighting and taking photos right after their workout! Instead of making yourself feel bad over their looks, work on perfecting the way you perform on the field. Try to run 5 kilometers in 25 minutes, then try lowering to 20 minutes, then 19. Climb a top of the heel , then climb a higher heel!
#02 EVERY LITTLE BIT COUNTS
British National Centre for Prevention and Control of Chronic Illnesses, recommends 150 minutes a week of moderate activity, in addition to a two times a week of intense training in intervals of 30 minutes. Bear in mind this recommendation comes as bare minimum of activity needed to stay fit and most importantly healthy.
That does not seem so hard, but according to the centre over 77 percent of men and women are not able to achieve such weekly goals! Despite the fact a moderate workout includes a myriad of activities, from slow jogging to yoga and hiking. A moderate activity also includes various workouts which so many people consider extremely easy, yet they themselves do not reach those goals. Such activity is fast walking, as one of the most effective on the list. Dr Haussman a resident at the Centre says – "The best exercise, is the one people actually do!".
Image top fitness model David Laid at Click Models NYC; Image @davidlaid
Therefore the rule is to do a little bit every day, although it may not be easy, there are key factors that you should take into account such as proximity and simplicity. If your gym is located within walking distance along your route to work and back home, that is already a plus. In order to find and compare gyms near you, you can utilize online resources such as Gym Near Me. This is especially useful if you happen to live in Australia. By incorporating moderate activities like walking for 30 to 45 minutes a day, you can start reaping the benefits of your stay-in-shape plan. Remember, consistency is key, and making it easy for yourself to stick to your routine can help you achieve your fitness goals.
#03 LISTEN TO YOUR BODY
Finding the balance in a workout and knowing where your limits are, makes more than half of the job on the road to stay in shape. You are often pron to push yourself over the limit if you are working out on your own, so while it might be costly taking a trainer for a few workouts might bring great effects in the long run. A trainer is not here only to show you how to workout, but also to help you find balance in a workout and show you where and when to draw a line. Unlike in the part of the article where we talked about not working out enough, some of us have problems of overdoing it! Too much activity may lead to injuries, which sometimes take weeks or even months to recover from. With people wanting results quickly, this becomes quite a problem! Also, make sure to gear up accordingly. Your body will thank you. Know the differences between walking and running shoes, for example, as running shoes provide even more stability and offer a good balance of motion control and cushioning.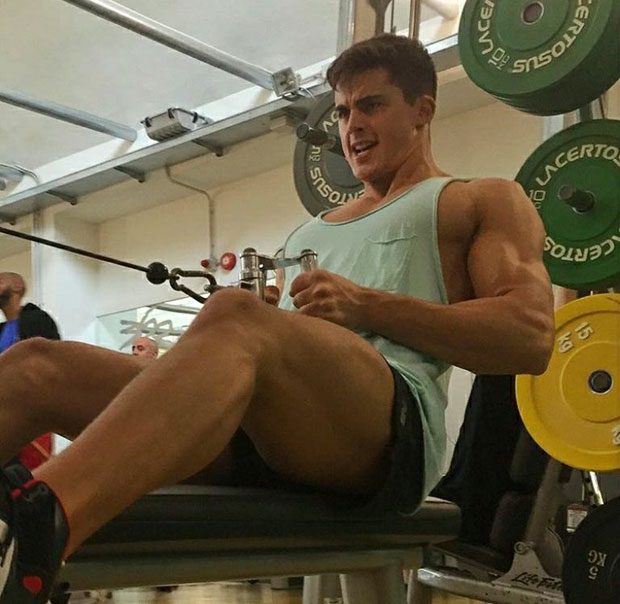 Image Pietro Boselli at Why Not Model Management; Image @pietroboselli
How to know your limits? While we do want to make it fun, working out is a serious task on your hands. If you are not able to do your exercises properly, most likely you already reached your limits. Doing an exercise right is far more important than building up a bigger number of repetitions or increasing weight. A proper workout is gonna help grow your muscle tissue, a badly performed exercise with bigger number of repetitions and more weight can cause injuries.
This is defined as 'point of exhaustion' when your body tells you 'I can't' listen to it, it really doesn't matter if you are lifting 60 kilograms 30 times or 8 times. Hard work brings results, no matter the weight you are lifting.
#04 DIVERSIFY YOUR WORKOUT ROUTINE
Here's a catch, to get better in your workout you need to take strategic breaks while in a long run you are thinking about your body as whole. Many activities we believe are of benefit, even if working out, it is possible we are not helping our whole body.
Model Jordan Torres at DT Model Management, Image @officialjt
For example, if you are playing basketball, swimming, baseball you are definitely to rip some benefits. However many of these sports are treating our body asymmetrically. Tennis for example keeps your one shoulder and your one arm most active, while swimming on the other hand mainly focuses on your upper body. According to a study coming from Journal of Applied Physiology professional runners, are pron to developing serious heart conditions, in addition to the strain their knees may endure in the course of their professional career.
For most of us, ideal solution would be a workout plan created to mix in few various sports, concentrating on upper and lower parts of our body. Creating a workout schedule is of course a must, but taking in account days off is as equally important.
Text by Ana Markovic, MMSCENE Magazine Editor.