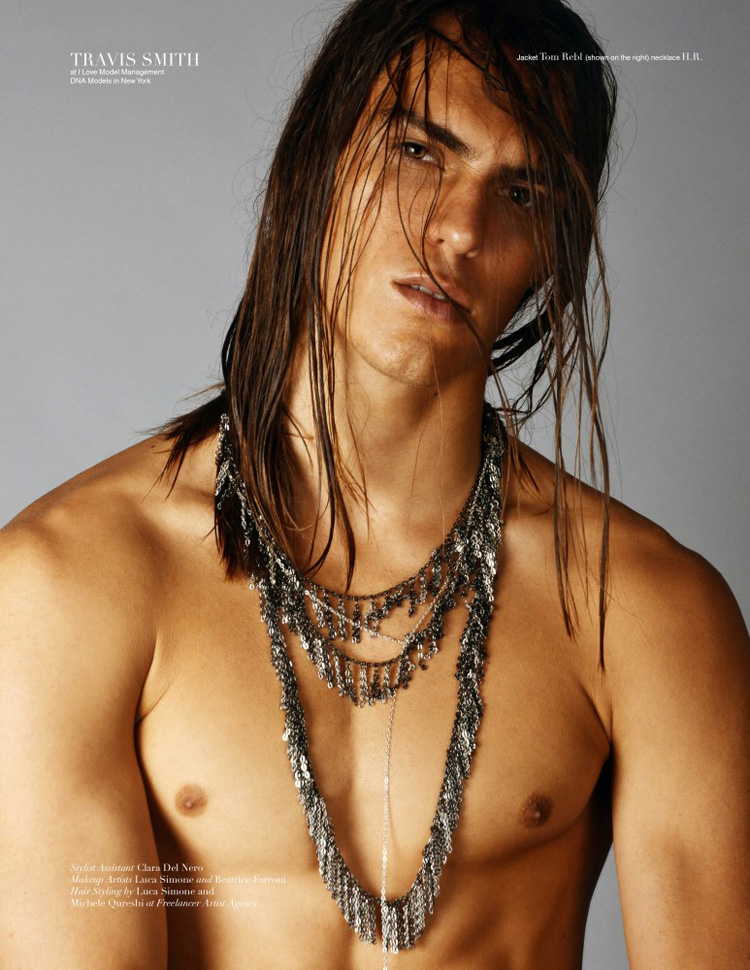 D'SCENE Fashion Editor CHRISTOPHER MAUL talks runways, waves and babes with TRAVIS SMITH for the launch edition of our D'SCENE MAGAZINE. Our new issue of D'SCENE is to be released in October, in the meantime discover the interview with our launch cover star TRAVIS SMITH.
Photography Michelangelo Cecilia, styling Emily Lee.
Meet Travis Smith. For those not in the know, his angular features and elvish locks have been dominating men's fashion the past few years. He's new to the scene, but being ranked 28th in the world on models.com (#14 on MMSCENE top 30) shows how far this surfer dude from Hawaii has come.
Travis was at the right place at the right time. "A freelance scout saw me the day I got my braces off," he says, "I looked at him with a strange look before he handed me his beat up business card and walked off". Not taking this encounter seriously, he let his mother follow up the opportunity. "My mom pursued it and later that week I did a test shoot with this scouter. He submitted my pictures to a Hawaiian agency and they sent me abroad to build my book," he says. Within a few weeks Travis was riding a wave from Ala Moana shopping centre in Hawaii straight to Hong Kong and Singapore.
He's not your typical model. "When I started [modelling] I was told that I'm too tanned, too short and that my hair is too long," he explains. Nothing would hold Travis back – he worked his quirks and his unique look soon set him apart from the crowd. "This is how I look my best, to just be myself. I'm pretty sure the market is overloaded with models but that's the way it is in every industry. If you want to succeed then you will," he says.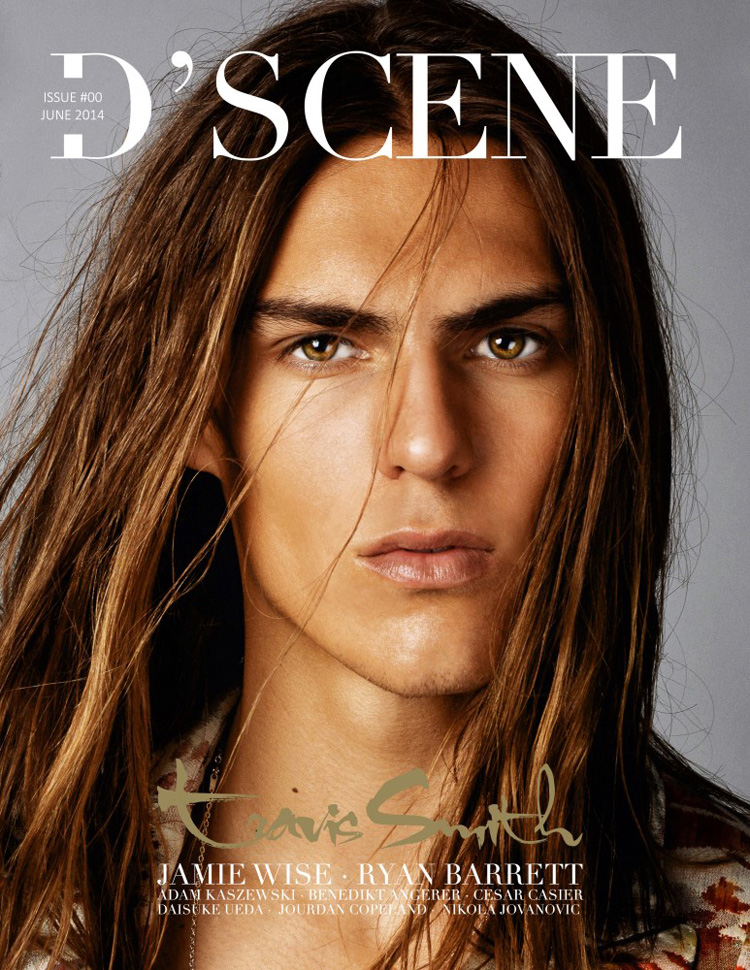 Name dropping like nobody's business, Travis recounts a list of career highs with a reminiscent smile. He's not bragging, he's just grateful to have met his idols. "I have worked with so many great people in this industry. I was lucky enough to work with Mert & Marcus for a Versace campaign. I also shot the Versus campaign alongside Karlie Kloss, shot by Daniele & Iango," he says. It's these icons that ignited his passion for photography.
Modelling does have its drawbacks for this homeboy. "I do wish that I could spend more time in paradise [home]. I really miss the ocean and being at home," he says. Travis had to make lots of sacrifices before choosing this career path. "Modelling is tough to get into because normally the model has to decide between furthering their education or start modelling," he says.
Save the sympathy for somebody else – Travis won't be needing it. "If you do it right, modelling is a very cool education. You travel the world alone, meet people that you have nothing in common with and travel into the unknown, trusting nothing but your instincts. That is very hard to conquer. I'm having the time of my life overseas so I'll continue to do this for a few more years," he says.
DISCOVER TRAVIS's MODEL FOLIO APP OVER AT MODELFOLIOAPP.com  – Smith has developed the groundbreaking app, reshaping the way industry see's a models portfolio today.
The good times don't end there. Inevitably, being a model comes in handy with the ladies. "My surfer friends were pretty funny about me modelling but then they would ask me what it's like to hang out with model babes," he laughs. It's a tough job but somebody's gotta do it.
NEW D'SCENE MAGAZINE IS OUT IN OCTOBER – IN THE MEANTIME ORDER YOUR COPY OF THE LAUNCH ISSUE IN PRINT OR DIGITAL.