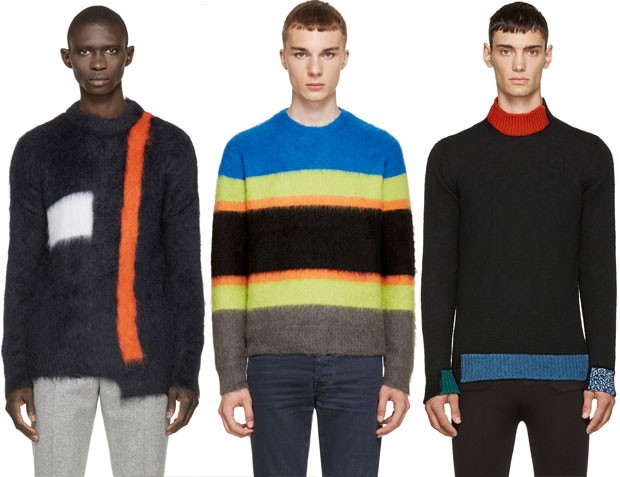 Sweater does not wait for a trend report to become the ultimate Winter essential for the upcoming Fall Winter season, it's just there. It is the only piece easily transitioning as outerwear to a layering piece much needed for the freezing temperatures. For the fast paced winter season only a few weeks away, top fashion designers have allowed the sweater to take the spotlight in their menswear collections.
And we were all inspired to select 14 MUST HAVE MEN'S SWEATERS OF THE SEASON!
We have gone through collection of designers and their respective houses such as Neil Barrett, Christopher Kane, Jil Sander, Moncler, Diesel, Ann Demeulemeester, 3.1 Phillip Lim, Maison Margiela, Diet Butcher Slim Skin, Rick Owens, Haider Ackermann, Raf Simons, Kenzo, Dsquared2 and Burberry to name a few.
See them all after the jump: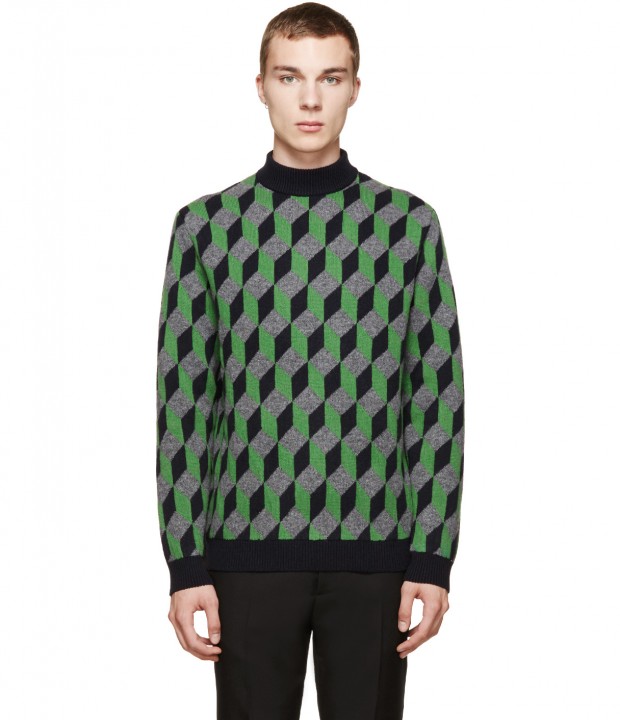 The first in the line up is the Navy 3D Cube Knit Sweater from the already established British designer Christopher Kane. The pattern becomes a new signature of the designer. The 100% Long Sleeve Knit Wool sweater will cost u only $655 USD – SHOP THE LOOK
.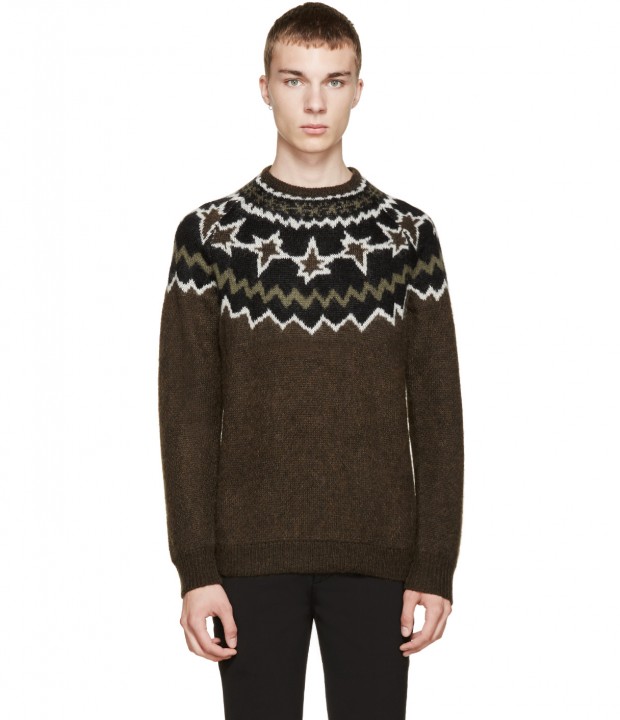 Designer Neil Barrett is one of the most anticipated moments at Milan Menswear Fashion Week, his collections are a true mix of contemporary men's style and a tune up on trends to come. The designer and his team featured the modified Fair Isle knit pattern at yoke featuring signature stars in tones of khaki green, white and black. Knitwear was an important part of his Fall Winter showing, with a mix of classic and a touch of holidays this look easily stands out in the Neil Barrett menswear collection SHOP HERE
.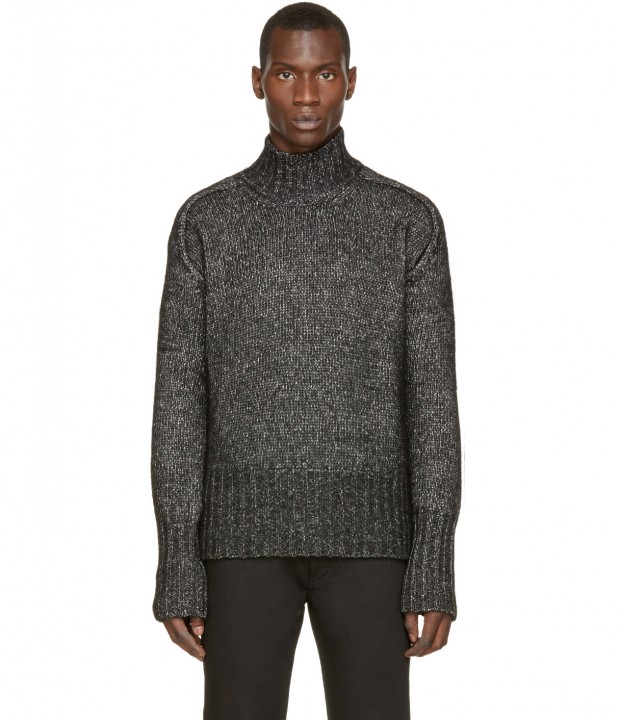 Ann Demeulemeester is no doubt part of fashion history and still has the strong impact on the same. The designer has presented a classic design with oversized details in black and white Alpaca wool. The Turtleneck was made in Belgium price $635 USD available with free shipping SHOP HERE
.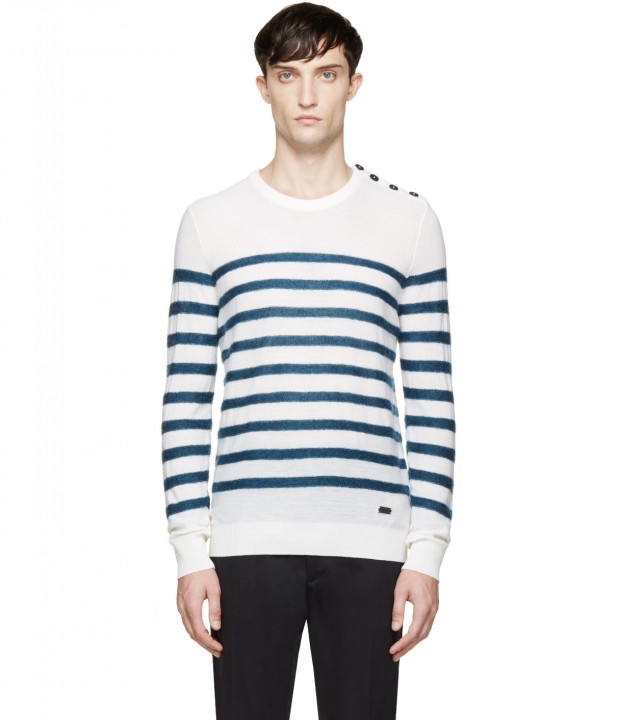 Burberry London might be obsessed with its British Heritage, rightfully so, nevertheless this eye-catching sweater is undoubtedly tres french. This long sleeve sweater is semi sheer, crafted in knit mohair with stripes in navy blue. It would cost you only $715 USD, available with free shipping SHOP NOW
.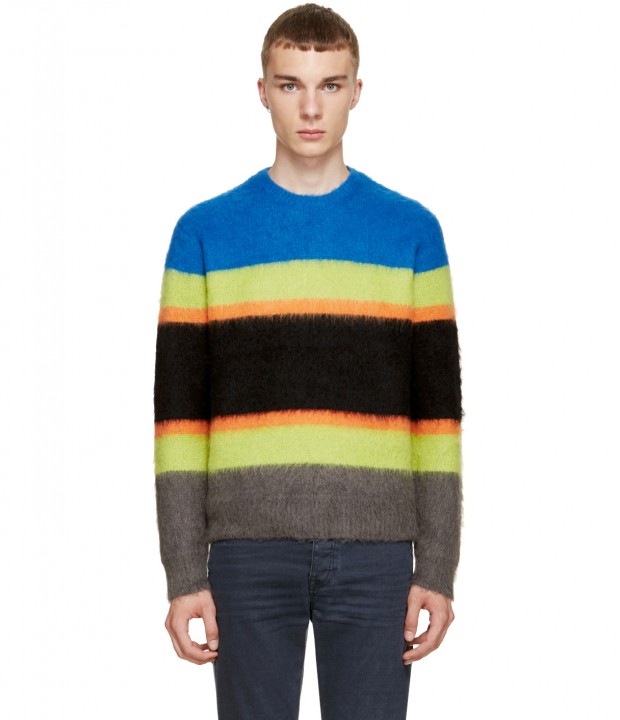 This Marc by Marc Jacobs Fluorescent & Black Striped Mohair Sweater will make you the light of the party, not to forget you are still able to own a collector's item. It is officially confirmed Marc Jacobs in process of going public on the stock markets will discontinue his Marc by Marc Jacobs line coming next season. Price of this gem is only $350 USD – SHOP NOW
.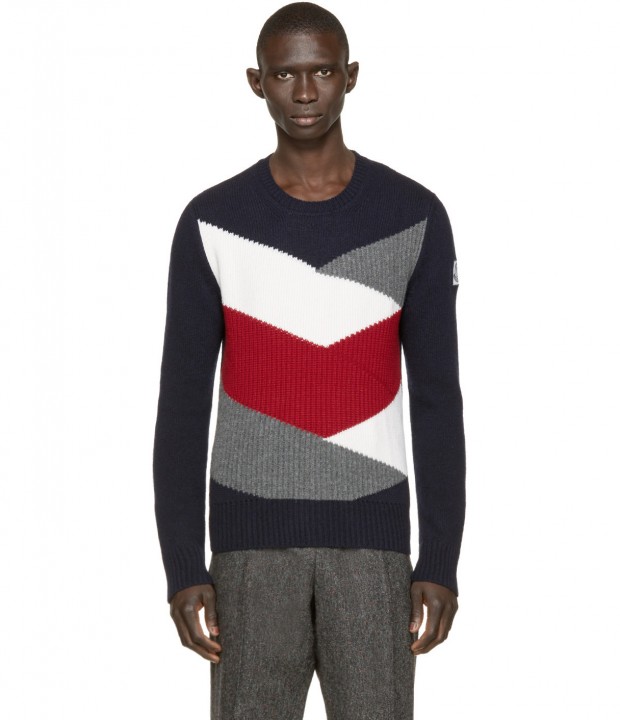 Moncler and its lines are always on the pulse of fashion and so is the Moncler Gamme Bleu Multicolor Knit Sweater made in Italy with the 100% virgin wool. Available with free shipping for $620 USD – GET IT NOW
.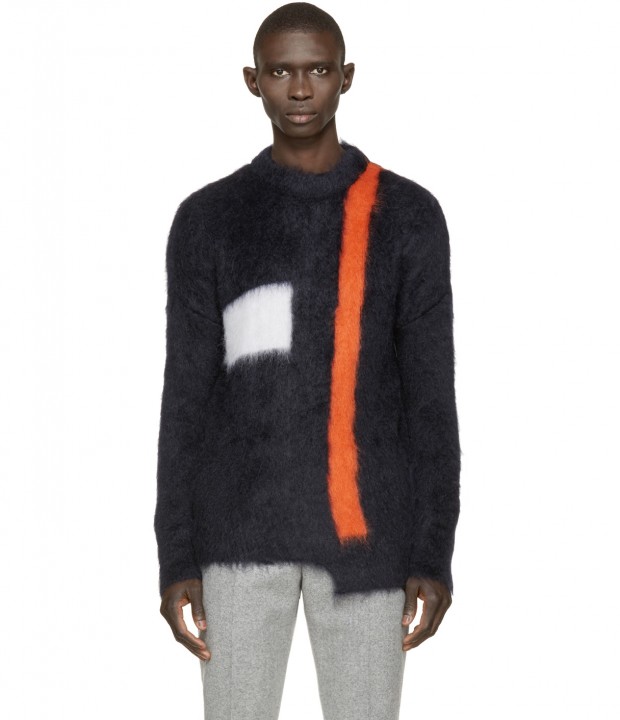 Milan based house Jil Sander is undergoing its latest revival, with transition from Raf Simons to Ms Jil Sander to then again silent exit of Sander from her eponymous line the new designer Rodolfo Paglialung had no easy task. The designer has presented this showstopping Navy Mohair Sweater made in Italy. Available with free shipping for $870 USD – GET IT HERE
.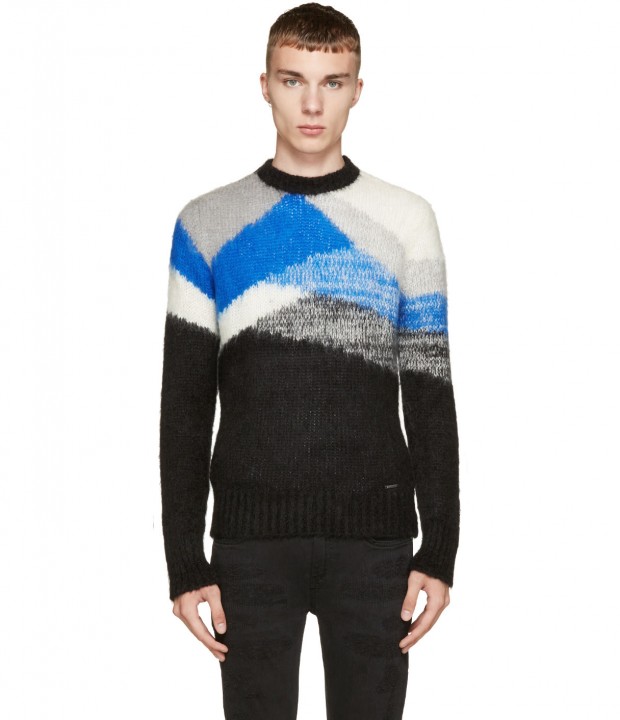 Designer Nicola Formichetti brought young blood to DIESEL putting the brand back on the map. The sweater in our today's selection is the example of the same. Reminiscent of Italian Alps the Blue & Grey Knit Sweater is available for only $200 USD – SHOP HERE
.
Simple yet cool the definition of Raf Simons applies to this impeccably designed sweater from the designer, created for his Fall Winter collection. The Black Colorblocked Knit Sweater was made in Italy and is available for $450 USD – GET IT HERE
.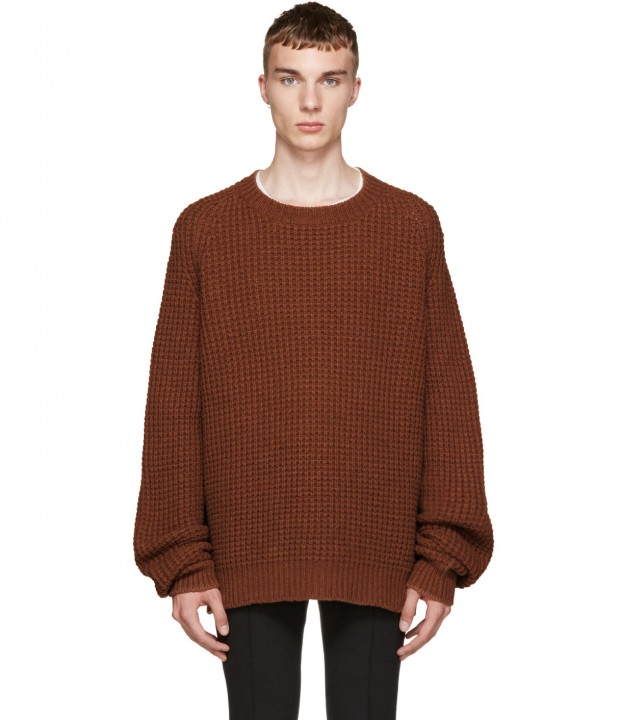 Brown Oversize Sweater from designer Haider Ackermann brings the oversize trend back on the map, with the undeniable sentiment of warm and cozy. Haider's sweater in our choice is 100% fleecewool and made in Italy. The designer piece is available for $895 USD – SHOP HERE
.

Leave it to Rick Owens to redefine the knit sweater, and the shinning example is the Rick Owens Black Jacquard High-Def Faun Sweater made in Italy. Owning this art piece does not come cheap $1,310 USD and it is all yours (free shipping included) – GET IT HERE
.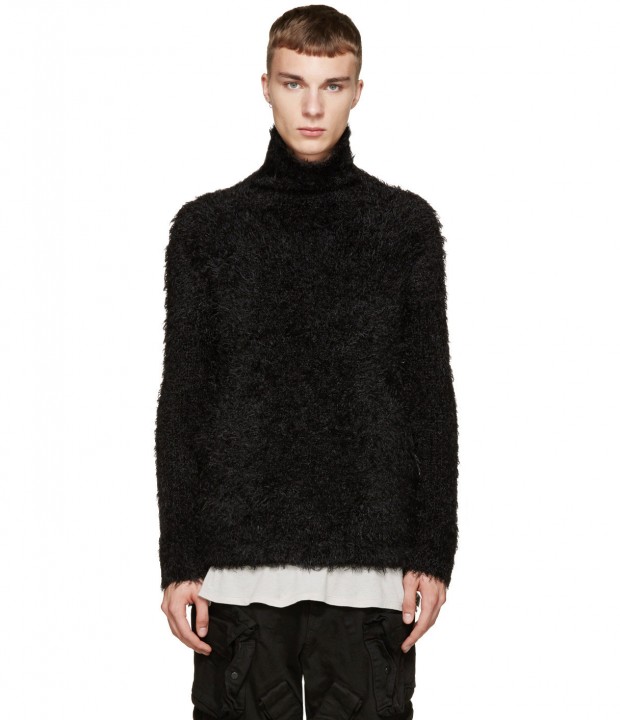 Diet Butcher Slim Skin is slowly but safely getting more attention on the scene, what caught our eye is their Black & Grey Fluffy Turtleneck sweater priced at $435 USD – SHOP HERE
.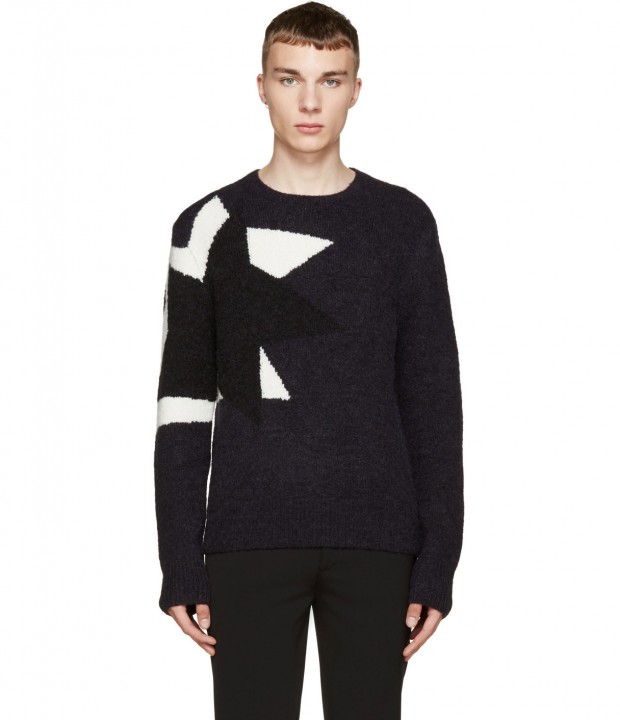 This list would not be complete without the Neil Barrett Pop Art a.k.a star sweater which proudly took the Milanese runway as well, therefore the Milan based designer is the only to be featured on our sweaters list twice. Priced at $415 USD – GET IT NOW
.


And last but not least is the Maison Martin Margiela sweater. Certainly a Late Nite piece calling for your wardrobe is priced $720 USD – GET IT HERE
.