Enhypen members Jake and Sunghoon take the covers of Cosmopolitan Korea Magazine's September 2023 edition lensed by fashion photographer Shin Sunhye. In charge of fashion direction was Kim Soyeon, with styling from Go Donghwi, art direction by Byun Eunji, and set design by Hwang Seoin. Beauty is work of hair stylist Jang Haein, and makeup artist Oh Gayoung. For the covers Jake and Sunghoon are wearing jewelry from Tiffany & Co.
Enhypen's single "Bite Me" has achieved a remarkable milestone, crossing the threshold of 100 million streams on Spotify. This achievement marks a significant record in the world of 4th generation K-pop groups, as "Bite Me" is now the fastest song by a 4th gen group to reach this feat. Impressively, the song garnered over 100 million streams in a mere 90 days. Notably, this success adds to Enhypen's impressive roster of songs that have achieved this milestone, including "Given-Taken," "Fever," "Drunk-Dazed," and "Polaroid Love."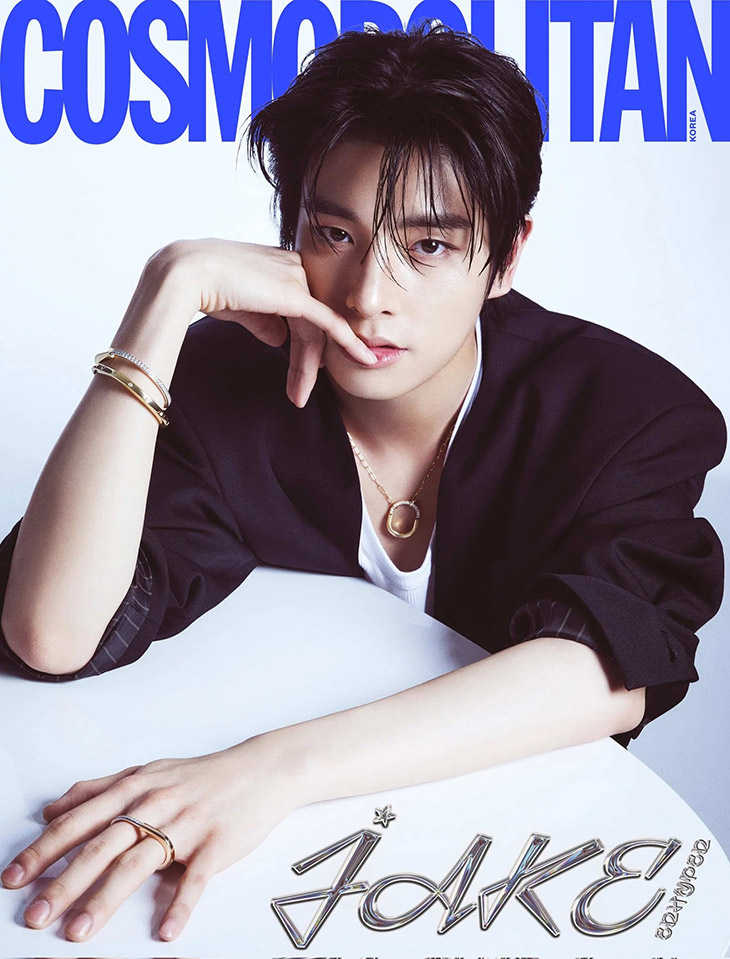 In addition to their streaming accomplishments, Enhypen's 4th mini album, "Dark Blood," made a strong impact on the global music scene. It secured the 144th position on the esteemed Billboard 200 chart. What's even more remarkable is that they established a new record by remaining on the chart for six consecutive weeks. This achievement even surpassed their previous record set by "Manifesto: Day 1," demonstrating their consistent popularity. Remarkably, they managed to hold onto the top position for an impressive two months.
"Dark Blood" also shone on the World Album Chart, climbing to the 4th position. Their ascent on various charts showcases their growing influence. Notably, they secured the 9th and 10th spots on the Top Current Album Sales and Top Album Sales charts, respectively. Additionally, they achieved the 72nd position on the Artist 100 chart.
Enhypen's upcoming plans include "The Red String of Fate" fan event, which will take place in Osaka and Tokyo, the very locations that serve as settings for their new world tour, "ENHYPEN WORLD TOUR FATE IN JAPAN." The event will run from August 25th to October 1st. Aptly named "The Red," this event symbolizes the unbreakable bond, often referred to as "the red string of destiny," between Enhypen and their devoted fans, known as ENGENEs. As part of the celebration, Enhypen will hold four distinct concerts in Osaka and Tokyo, with a multitude of surprises and treats in store for their dedicated fans as they collectively rejoice in Enhypen's journey.
Photography © Shin Sunhye for Cosmopolitan Korea, read more at cosmopolitan.co.kr