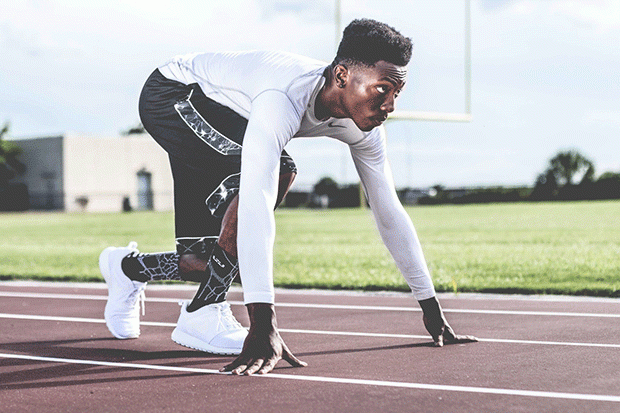 The years of athletic clothing being limited to, well, athletes are long gone. "Athleisure" – a reference to gym wear worn alongside traditional office attire – is here to stay; according to Fashionista, consulting firm A.T. Kearney expects athleisure sales to almost double by 2020.
There's a definite appeal to wearing clothing that provides comfort without stuffiness. However, so unorthodox is athleisure that you need to be careful in attempting to get it right.
Read more after the jump:
Sweatshirts
You won't see world-class athletes wearing heavy jerseys too often. Instead, they tend to favour sweatshirts comprising the likes of lightweight fabric and mesh panels. These garments also often feature breathable technologies that can assist joggers in regulating their body temperature.
Those sweatshirts could also prevent you getting uncomfortably warm on packed trains – and look good beneath a minimal overcoat during cold weather, points out FashionBeans.
Joggers
There's one word which can accurately describe pretty much any athleisure jogger: "tight"! If that word worries you, the baggiest athleisure jogger you can really get is a casual tapered jogger.
However, if you are feeling braver, you might want to browse what is available in the category of the other type of athleisure jogger: the slimline one. It doesn't look far from performance tights but provides plentiful comfort – to the extent where you could feel like you aren't wearing them at all.
Running trainers
Some rather unpleasant images could emerge in your head when you think about running trainers. After all, trainers aimed specifically at runners can feature horrendously fluorescent detailing on off-white and off-grey. However, you might want to look again at the options available.
These days, brands are accustomed to producing trainers that could genuinely serve you well during a marathon but also look great in a very modern way. It's very much what athleisure overall is about.
Track jackets
These, too, are clothing items which have moved on from the aesthetic monstrosities with which you have probably been familiar in the past. Today, track jackets are available in a wide range of cuts, styles and colours. Furthermore, your choices can reflect your leisure preferences.
For example, are you interested in possibly trekking a mountain? Alternatively, you might just prefer to engage in occasional light training. In either scenario, there will be a track jacket for you. If you opt for a featherweight jacket, try wearing it on top of a polo shirt and beneath a parka.
Hoodies
You might remember a time when hoodies were strongly associated with those ghastly scourges known as "chavs". Well, okay, so perhaps that was just the word the middle class preferred…
Fortunately, hoodies are much more fashionable these days. Besides, you can use a jacket's extra hood to not only shield yourself from harsh effects of the weather but also structure your layering – for example, by allowing that hood to be visible above a hoodless jacket worn on top of the hoodie.
You can find a pleasing choice of athleisure hoodies in the range of the Gym King clothing brand.