In the last year, we have lost some of the most famous faces in fashion. From the designer of the 'mini skirt' Mary Quant, to punk pioneer Vivienne Westwood, 2022 and 2023 have made us say goodbye to the designers that once shaped the runway.
As we delve into their rise to fame, and their style trends that continue to this day, stay with us as we remember the designers that dominated our high streets in the last century.
Paco Rabanne
This Spanish designer has dominated catwalks to chic boutiques from the '60s to today. Paco Rabanne is known for his best-selling frames, fragrances and space-age metal dresses, all of which remain popular on the high street.
Following his death on the 3rd of February 2023, the 88-year-old designer was credited as "among the most seminal fashion figures of the 20th century."
Rising to fame in the 1960s, Paco Rabanne started off by designing debut collections of plastic-inspired accessories and buttons, which went on to inspire his first famous presentation, "Twelve Experimental Dresses", which defined his name in 1964.
Since then, he has gone on to dress some of the century's hottest celebrities, ranging from Audrey Hepburn to Jane Fonda. In fact, even today, Gigi Hadid and Billie Eilish can be seen walking the red carpet dressed head to toe in his futuristic designs.
"I am profoundly saddened by the death of Paco Rabanne," said the brand's newest chief executive, Marc Puig, in a statement. "Through his great personality, he transmitted a unique aesthetic and a daring, revolutionary and provocative vision of the world of fashion."
Vivienne Westwood
Vivienne Westwood started a new era of fashion. As a rebellious designer, she pioneered high-fashion punk, broke style boundaries and inspired a new era of strong, independent women.
Passing away at the age of 81 on the 29th of December 2022 in her London home, she will be incredibly missed and remembered for shaping the fashion industry for over sixty decades.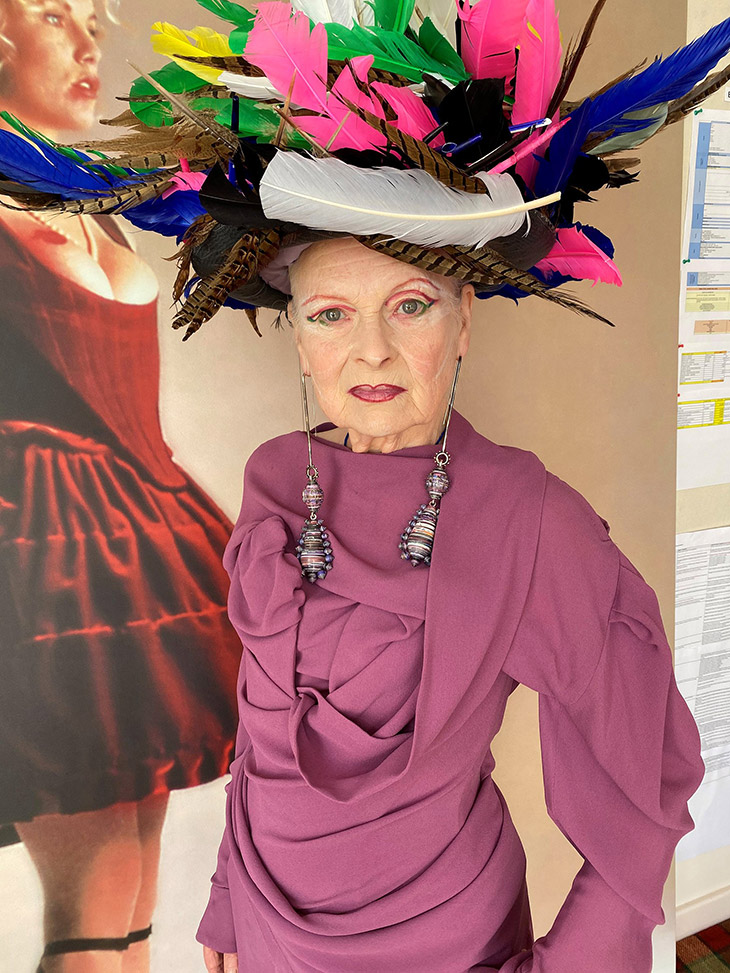 Her controversial designs led the British punk movement in the '60s. Combining her love of fashion with her own political agenda, she encouraged her followers to make statements with their style.
Let's think back to her iconic first catwalk show, where she debuted her punk-inspired Pirates collection. Since then, she has gone on to create her famous Statue of Liberty corset in 1987 and a number of other designs fit for a fashionista that wants to stand out.
In her later years, Westwood's house name has moved to jewellery and is home to the Silver Mayfair necklace that has remanded popular amongst Gen Z. While she may be gone, her rebellious style and out-of-the-box fashion will continue to live on in an era of Y2K trends.
Mary Quant
Known for designing the iconic 'mini skirt' Mary Quant was a visionary when it came to female fashion. After leaving us at the grand age of 93 earlier this year, she leaves behind style trends that will continue to shape fashion for centuries to come.
Quant popularised the mini skirt, creating dresses, accessories and tights that accentuated a tighter-fitting, bodycon design. Introducing skirts that were hemmed to 8 inches above the knee, she crushed the stereotype that women must cover up their curves.
"Snobbery has gone out of fashion, and in our shops, you will find duchesses jostling with typists to buy the same dress," Quant once said. She aimed to create a collection that pleased all backgrounds, describing her store as "a sophisticated candy store for grown-ups."
Issey Miyake
Speaking of skirts, we must mention Japanese designer Issey Miyake. Known as the 'Prince of Pleats' he will be remembered for adding flare to the mini skirt and creating innovative, stylish shapes that are still on the high street today.
After passing away on the 5th of August, 2022, at the age of 84, the '70s avant-garde icon has been credited for some of the best moments in haute couture. Take Steve Jobs' famous black turtleneck, for example, or the New Balance 991s aesthetic. Miyake was responsible for both.
Standing against fast fashion, most of Miyake's early work was made using just one tube of fabric, a knitting machine and a combination of hand-stitching techniques. In fact, his clothes were so intricately made that some of his designs now live permanently in the Museum of Modern Art as an ode to his love for detail.
Since his catwalk debut in 1971, he went on to produce designs that were genderless, free of conventional shaping and, of course, an art statement that innovated sophisticated style.