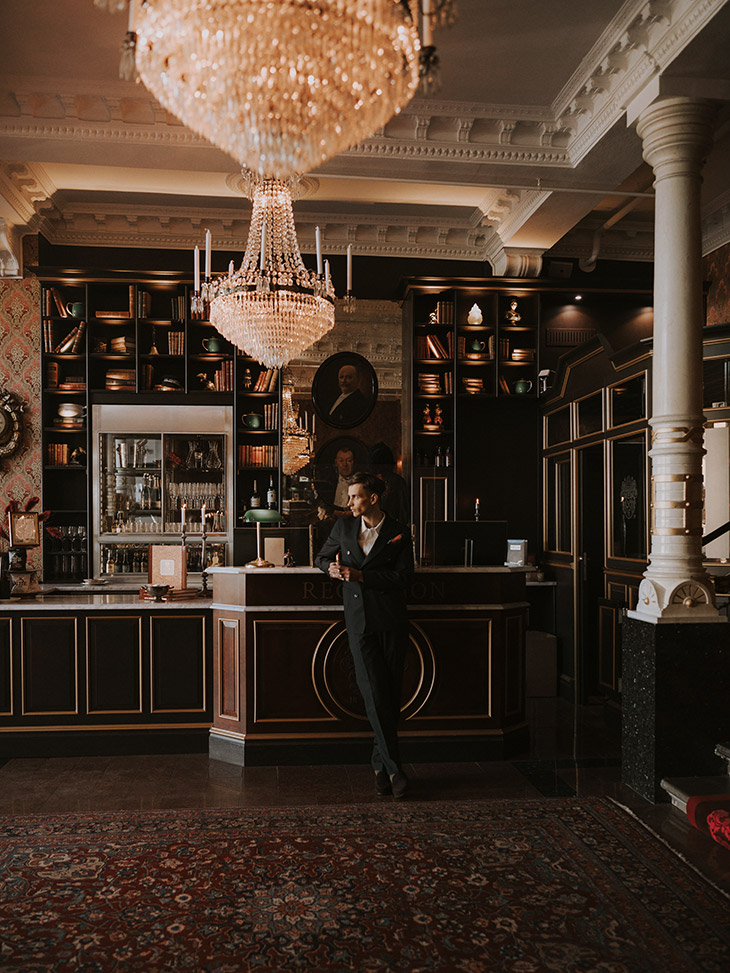 As a modern man constantly on the move, whether for business or leisure, you know the importance of looking stylish and put-together wherever your jet-setting adventures take you. In fashion, traveling in style has become an art form where comfort meets elegance and functionality meets flair. To help you navigate the realms of jet-set fashion, we've compiled a comprehensive guide on essential clothing and accessories for men on the go. Get ready to turn heads and exude confidence wherever you land!
Jet-Set Fashion: Essential Clothing And Accessories For Men On The Go
The Versatile Blazer
A well-fitted blazer is a cornerstone of jet-set fashion. Choose a versatile blazer in a neutral color such as navy, charcoal, or gray. It instantly adds a touch of sophistication to any outfit, whether you're attending a business meeting or exploring a new city. Pair it with a crisp white shirt for a classic look, or dress it down with a t-shirt for a more relaxed vibe. The blazer adds a polished touch and serves as a functional layering piece during unpredictable weather.
Smart Travel Shirts
Invest in high-quality travel shirts that are stylish, wrinkle-resistant, and easy to care for. Look for fabrics such as cotton blends or performance materials that offer moisture-wicking properties. These shirts will keep you comfortable during long flights and still look fresh upon arrival at your destination. Opt for classic colors like white, light blue, or soft pink for a timeless appeal. Plus, consider shirts with secret pockets or secure compartments for storing essentials like your passport or travel documents.
Tailored Trousers
No jet-set wardrobe is complete without a pair of tailored trousers. Choose slim-fit or straight-leg pants in versatile shades like charcoal, navy, or khaki. You can style those trousers with a blazer and a dress shirt or dress down with a sweater or a polo shirt. The key is to find a comfortable yet refined fit that flatters your body shape. Look for trousers with added stretch for ease of movement during long flights or extended periods of sitting.
Travel-Friendly Shoes
When it comes to footwear, opt for comfort and style. A pair of leather loafers or dress shoes in a neutral color is a wise investment. They effortlessly transition from the airport to business meetings or formal events. Pack a pair of versatile sneakers or loafers for casual outings or exploring your destination on foot. Look for shoes with cushioned insoles and breathable materials for maximum comfort during long days. Consider slip-on styles or those with easy closures to breeze through security checkpoints.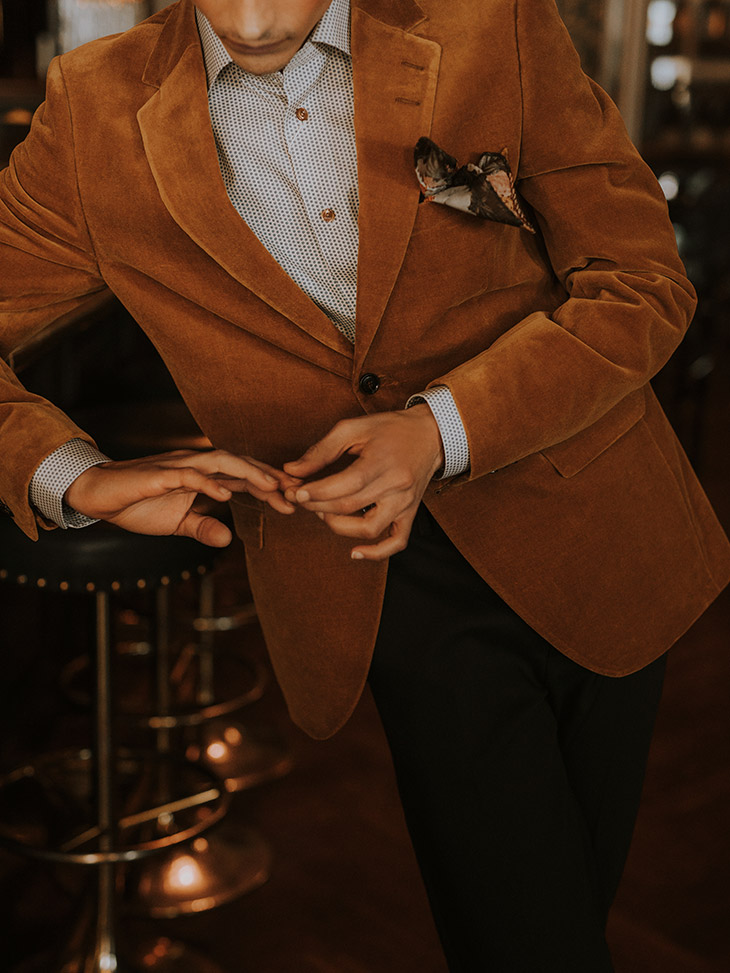 Accessorize with Purpose
Accessories play a vital role in jet-set fashion, allowing you to express your style while adding functional elements. Here are a few must-have accessories:
Delta 8 Edibles: While not directly related to fashion, it's worth mentioning that some travelers prefer to bring delta 8 edibles along to help them relax during their trips. These may help you set yourself in the right mood for an exciting journey.
Stylish Timepiece: A sophisticated watch keeps you punctual and elevates your overall look. Choose a timeless design that matches your style and can be easily paired with different outfits.
Travel Wallet: Stay organized with a travel wallet holding your passport, boarding pass, and other essentials. Opt for a sleek, compact design that fits comfortably in your pocket or carry-on bag. Look for RFID-blocking features to protect your personal information.
Versatile Backpack: Invest in a stylish backpack that can accommodate your laptop, travel documents, and other essentials. Look for one with multiple compartments and sturdy construction for durability. Consider a pack with a built-in USB charging port for convenient charging on the go.
Sunglasses: Shield your eyes from the sun's rays with high-quality sunglasses. Choose a classic style that suits your face shape and provides adequate UV protection. Opt for polarized lenses to reduce glare and enhance visibility during outdoor activities.
Travel-Friendly Hat: Pack a stylish hat that adds a fashionable touch and protects you from the sun. Opt for a versatile hat such as a fedora or a Panama hat that can be easily folded and packed in your luggage.
Quality Travel Umbrella: Bring a compact, lightweight travel umbrella for unexpected rain showers. Look for one with a durable frame and a wide canopy to keep you dry and stylish in any weather.
Tie or Bowtie: Pack a stylish tie or bowtie for formal events or business meetings that complements your outfit. Opt for versatile colors and patterns to coordinate them with shirts and blazers.
Portable Charger: Keep your electronic devices powered up on the go with a portable charger. Look for a compact, lightweight option that provides multiple charges, ensuring you never run out of battery during your travels.
Noise-Canceling Headphones: Block out the noise of crowded airports or loud flights with a pair of noise-canceling headphones. Enjoy your favorite music, audiobooks, or podcasts in peace while staying comfortable during your journey.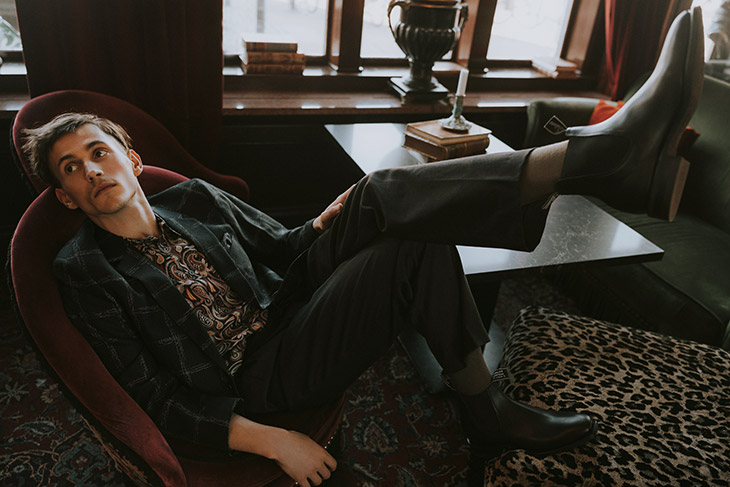 Conclusion
Jet-set fashion is about striking the perfect balance between comfort and style while traveling. By incorporating essential clothing items like versatile blazers, smart travel shirts, tailored trousers, and travel-friendly shoes, you can create a sophisticated and put-together look suitable for any occasion. Pairing these pieces with purposeful accessories adds the finishing touches to your ensemble while providing practical functionality. Bon voyage!
Images from MMSCENE STYLE STORIES: Daniil Kudryavtsev by Emma Grann – See the full story here