Comfortable men's clothes are easy to find however gone are the days when style and comfort were mutually exclusive. Today, it's possible to look stylish and feel comfortable at the same time. Whether running errands, going to work, or hanging out with friends, there are many ways to look stylish in comfortable clothes.
Explore a few menswear style tips prepared by MMSCENE fashion editors for you
Choose High-quality Fabrics
Choosing fabrics that feel good against the skin is essential when it comes to comfortable men's clothes. However, that doesn't imply you must sacrifice style. Investing in high-quality fabrics like cashmere, linen, silk, or wool can give you comfort and style. These fabrics not only feel great, but they also look luxurious and sophisticated.
For example, linen shirts for men are a great way to look stylish while comfortable. Linen is a breathable and lightweight fabric perfect for warm weather, and it's also a versatile fabric you can dress up or down, making it suitable for various occasions.
Invest in well-fitted clothing.
Even if you're going for a relaxed, comfortable look, choosing clothes that fit well is important. Clothes that are too baggy or tight can make you look sloppy or unflattering. On the other hand, well-fitted clothes can accentuate your best features and give you a polished appearance. If you're unsure about your size or how certain clothes should fit, consider getting measured by a professional or asking for help from a store associate.
Accessorize
Your look can be elevated, and your personal style can get more individuality, if you use the right accessories. A watch, a pair of sunglasses, a scarf, or a bracelet are all there to use and create a fashionable yet cool look. The key is to select accessories that are in keeping with your personal style but do not compete with the garments you are wearing. For instance, if you're going for a laid-back look by donning a T-shirt and jeans, a straightforward silver bracelet might lend an air of sophistication without being overly showy. Watches are also a great way to add up a style note to your outfit, and not all men's watches have to be expensive.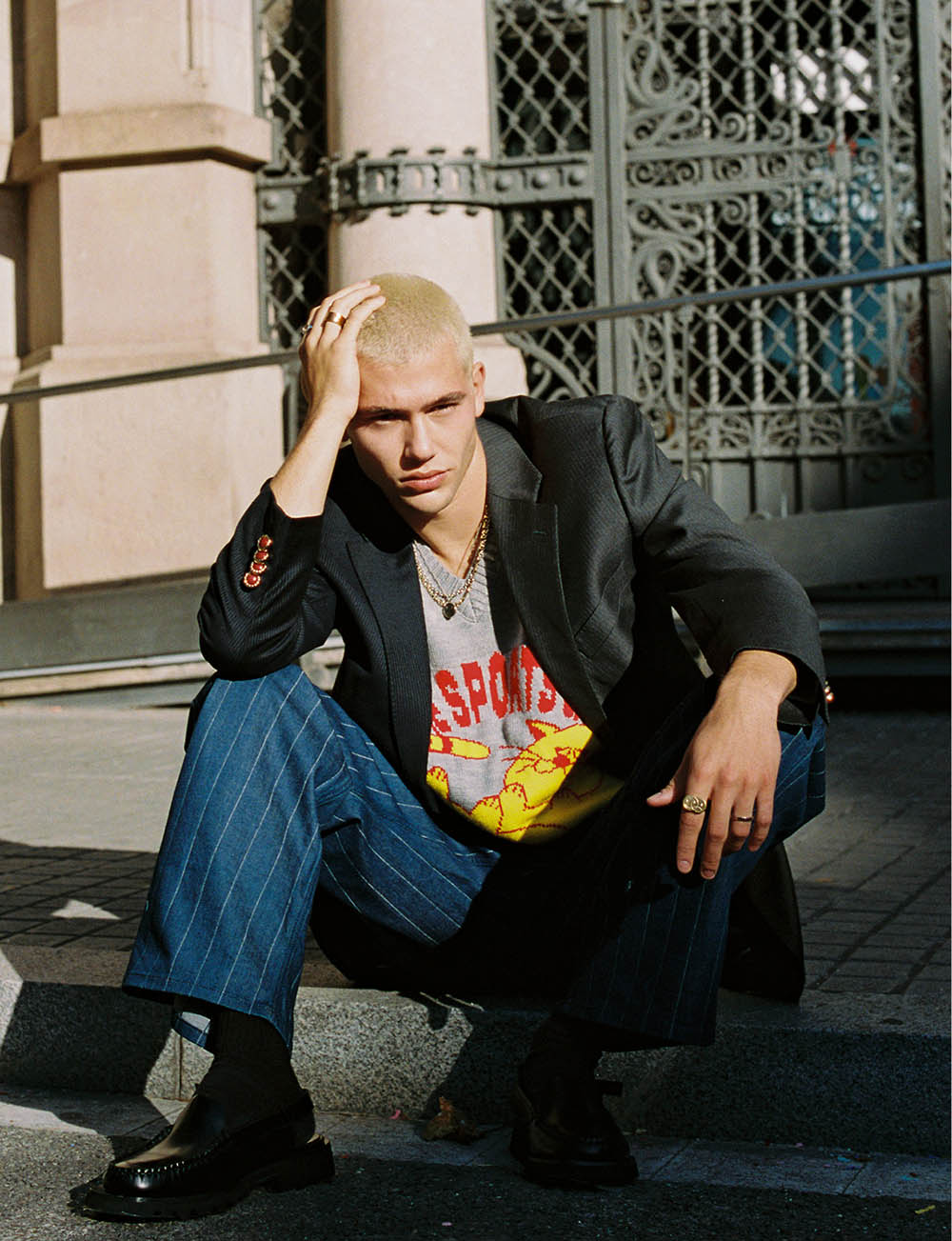 Add Some Texture To Comfortable Men's Clothes
The addition of texture is a fantastic method to give an outfit more intrigue without compromising its level of coziness. If you want an outfit that is both fashionable and comfy, try teaming a t-shirt made of soft cotton with a chunky knit cardigan or a suede jacket.
During colder season's outerwear is a great way to play with texture and volume. A great example of sportswear gone stylish especially when it comes to menswear is the bomber jacket. And thankfully there are infinite ways to style a men's bomber jacket.
Layering Is What Comfortable Men's Clothes Need
Adding layers to your wardrobe can give it more dimension and help you achieve a more put-together appearance. For instance, to achieve a more stylish appearance, you may layer a T-shirt underneath a button-down shirt or a cardigan. The trick is to select colors and materials that go well together, and you also need to make sure that each layer brings something special to the overall look.
Embrace the Backpack
You don't have to choose between comfort and style when you wear a backpack. Backpacks are not only more pleasant to carry than conventional briefcases or messenger bags, but they are also more adaptable and have a greater capacity for your prized belongings. When selecting a backpack, there are a few factors that should be taken into consideration. Consider first the required dimensions and amount of storage space. If you plan to use your backpack for work, you should look for one that has space for a laptop computer in addition to other necessities. If you're going to use it for traveling, you'll want to get something that has enough space for your clothes and other necessities while you're away.
Second, there is a wide range of designs to choose from while shopping for a backpack, ranging from simple and understated to vibrant and eye-catching. Choose a look that complements both your persona and the event you're attending.
Don't Forget About Shoes.
It's not necessary to wear sneakers or sandals in order to have comfortable shoes. It's possible to get stylish and comfy versions of Chelsea boots, loafers, and additionally sneakers. The most important thing is to wear shoes that are appropriate for the level of formality of your attire. For instance, a pair of leather loafers may take a laid-back style to the next level, whilst a pair of trendy sneakers can inject some edge into an otherwise put-together ensemble.
COMFORTABLE MEN's CLOTHES TAKEAWAY
When it comes to looking fashionable while yet being comfortable in what you're wearing, less is typically more. Focus on simple, timeless pieces that are comfortable to wear and flatter your figure rather than trying to include too many other styles or embellishments into your ensemble. It's possible to get the same level of chicness as you would with a more involved getup by simply wearing a t-shirt that fits well, some jeans, and a pair of sneakers.
All images from MODEL CITIZEN exclusive Interview and shoot with breakthrough model Julio Taeño photographed for the print edition of MMSCENE magazine by Spanish photographer Deid Garcia – discover the complete fashion story and interview with Julio.