The new FENDI Factory in Capannuccia, near Florence, enveloped in earth and concrete, blends in with the picturesque Tuscan landscape. It is a pioneering center dedicated to the pursuit of perfection in exquisite leather craftsmanship. The FENDI Men's Spring Summer 2024 collection, designed by Silvia Venturini Fendi, artistic director of accessories and menswear, pays homage to this exciting new chapter and marks a significant return to Florence, where Silvia Venturini Fendi's grandmother, Adele Fendi, ventured almost a century ago to master the art of leatherwork. The collection takes center stage, parading through the sunlit atrium of the FENDI Factory, reflecting a metafictional study of the creative process. The harmonious interaction between humans and machines becomes a tangible bridge between the past and the future. The collection intertwines elements of industrial design and traditional workmanship, reflecting on the delicate balance between nature and innovation.
SPRING SUMMER 2024 COLLECTIONS
The seasonal silhouette is founded on utilitarian elegance, honoring the concept of the "corporate artisan" through refined interpretations of FENDI's superior craftsmanship. Cotton and leather are extensively featured, with workwear belts decorated with patch pockets scattered throughout the collection, serving both physical and symbolic gestures revealing the tools of the trade. The apron takes on a new role, transforming into halter neck collared shirts and skirts of various lengths, complementing tailored pants and city shorts. Proportional playfulness abounds, from shrunken ribbed body tanks to high-waisted suit trousers with zip-off parts and knee-length dress shirts buttoned to the elbow.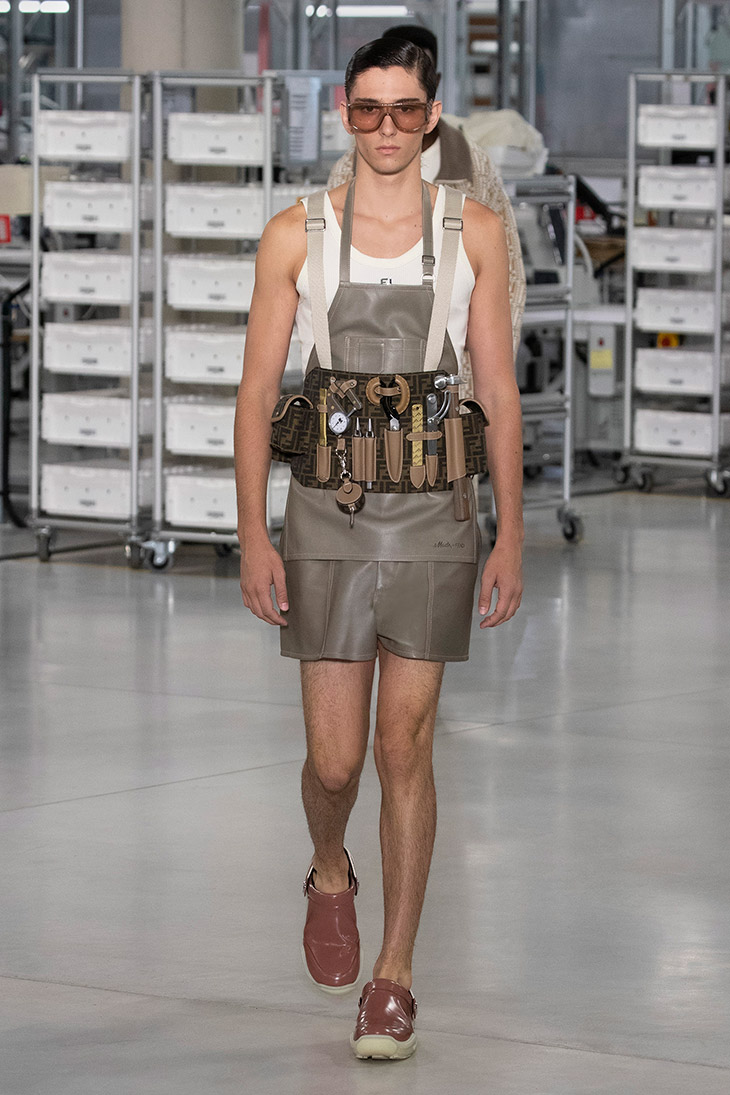 Mineral tones reminiscent of burnt umber, terracotta, and deep indigo pervade the collection, softened by a subtle haze of sage, limestone, and chalk. The range includes light summer wools and nettle fiber knitwear, dyed with vegetable pigments derived from acacia, juniper, henna, and poppy. Other raw materials follow suit, ranging from the dry touch of woven paper fabrics and intricately patterned linen to the sensual appeal of FF scarf silks, plongé leather, and Selleria-stitch nubuck leather. FF "tweed" is woven into a coated cotton and linen shirt or a featherweight knit shearling coat, paying homage to the skill of Italian basket weaving, and its visual effect is reflected in graphic silk separates and indigo fil coupé FF denim. Tonal FF jacquards, cotton flower embroidery, and contrasting tack-stitch designs for evening attire are among the other trompe l'oeil effects that showcase the artisan's mastery.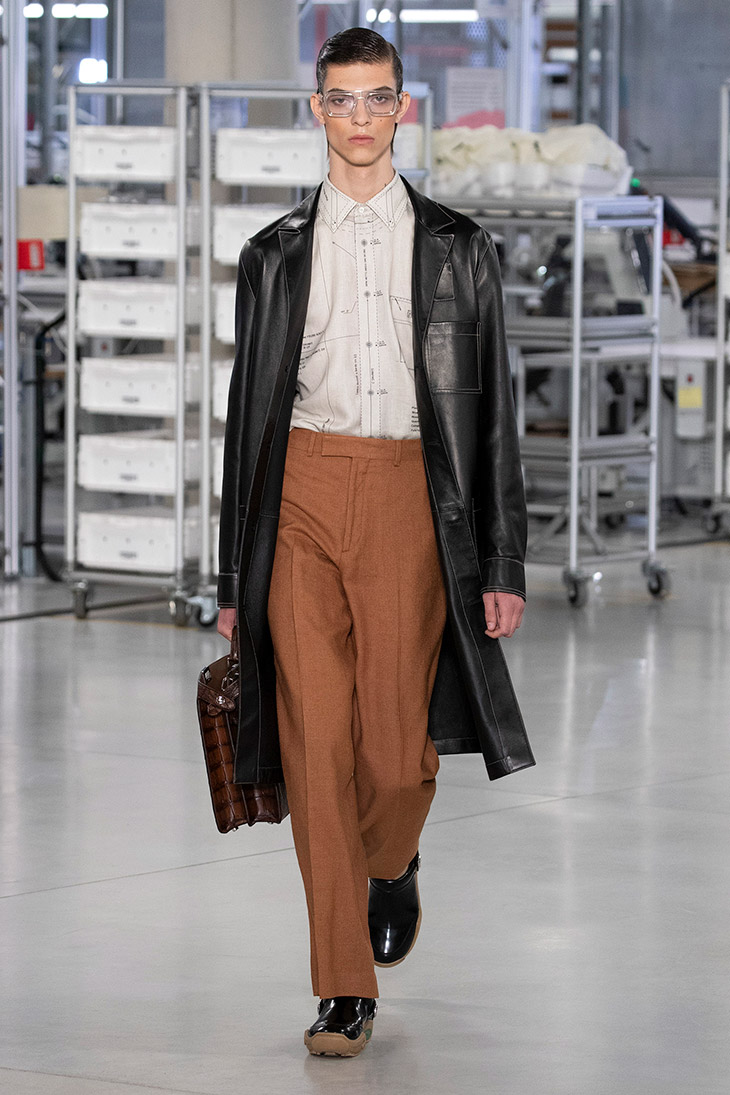 The FENDI Men's Spring Summer 2024 accessories line embarks on a whimsical investigation of the "corporate artisan," giving tactile expressions of the finest craftsmanship from the FENDI Factory. Supple woven baskets, knotted jacquard "lunch" bags, raffia-embroidered weekenders, and structured FF luggage embellished with vibrant tool prints complement the introduction of new Baguette and Peekaboo styles made from vegetal-dyed textiles, debossed leather with scale-like patterns, and trompe l'oeil graphics that resemble prints. The minimalist FENDI Chiodo satchel in grained leather joins the swivel backpack of the same name, both with tonal leather straps decorated with the round FENDI Shadow hinge device. The FENDI Lab clog, which features a swivel heel strap and a molded FF sole made of bio-based rubber, also features this gadget. The line, designed by Delfina Delettrez Fendi, the artistic director of jewelry, includes locker key pendant necklaces, "Made in Fendi" dog tags, "StaFF Only" pins, and 1925 hoop earrings, all of which playfully reimagine ordinary items from the FENDI Factory with an irreverent twist. The FENDI KENGO KUMA concept, which represents a thrilling artistic partnership between Italy and Japan, stands out in the FENDI Men's Spring Summer 2024 accessories collection. Kengo Kuma's architecture ideas are used to famous FENDI items such as the Peekaboo, Baguette Soft Trunk, and FENDI Flow sneakers, resulting in designs made from traditional Japanese materials such as waranshi paper, woven bamboo, birch bark, and Tuscan olivewood.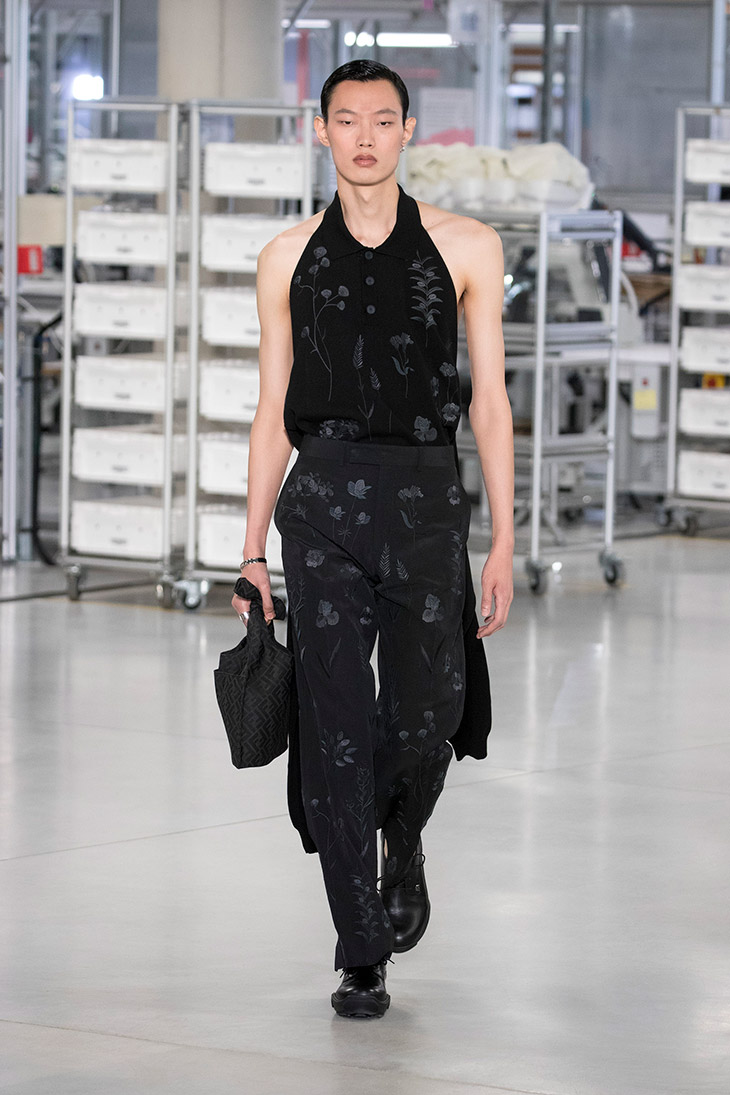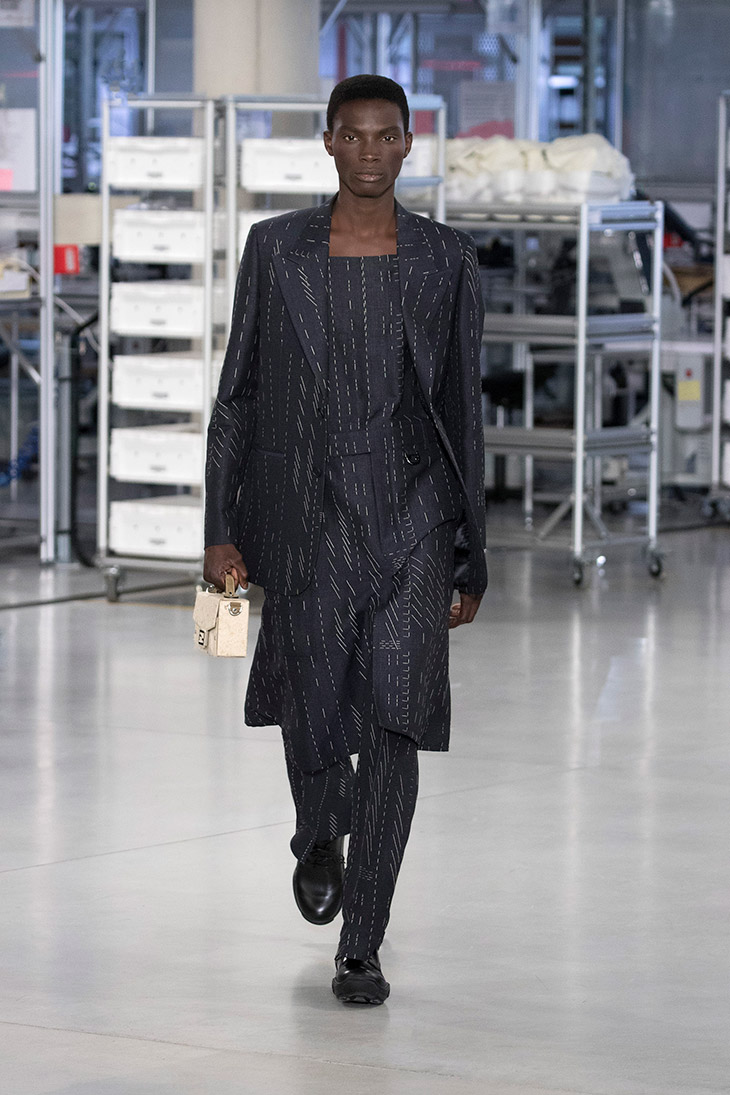 The FENDI Men's Spring Summer 2024 runway show follows a dual presentation format, initially unveiled exclusively to the artisans of the FENDI Factory before being attended by press, guests, and friends of the House. This enthralling digital experience, created and produced by Italian artist Nico Vascellari, seamlessly shifts between both audiences, providing a unique perspective on the collection.