The University of Westminster presented MA Menswear Spring Summer 2023 Collection at the recently finished London Fashion Week Men's. As a part of the show were 14 designers from the University: Alice Brightmore, Fanni Flora Henics, Jesse Lee, Na Yeon Kim, Gerogia Wilson, Juoyu Wang, Jasmine Thompson, Qian Sun (Eric), Marcus Wood, Fangfang Rao Phoii, Hsuantsai Chou (Herra), Guangyu Li, Yuhao Wu (Felipe) and Lingshan Fan. The collection has been photographed by Andrew Gilbert, with production by Clare Day. In charge of hair styling was John Vial, with makeup by Andrew Gallimore.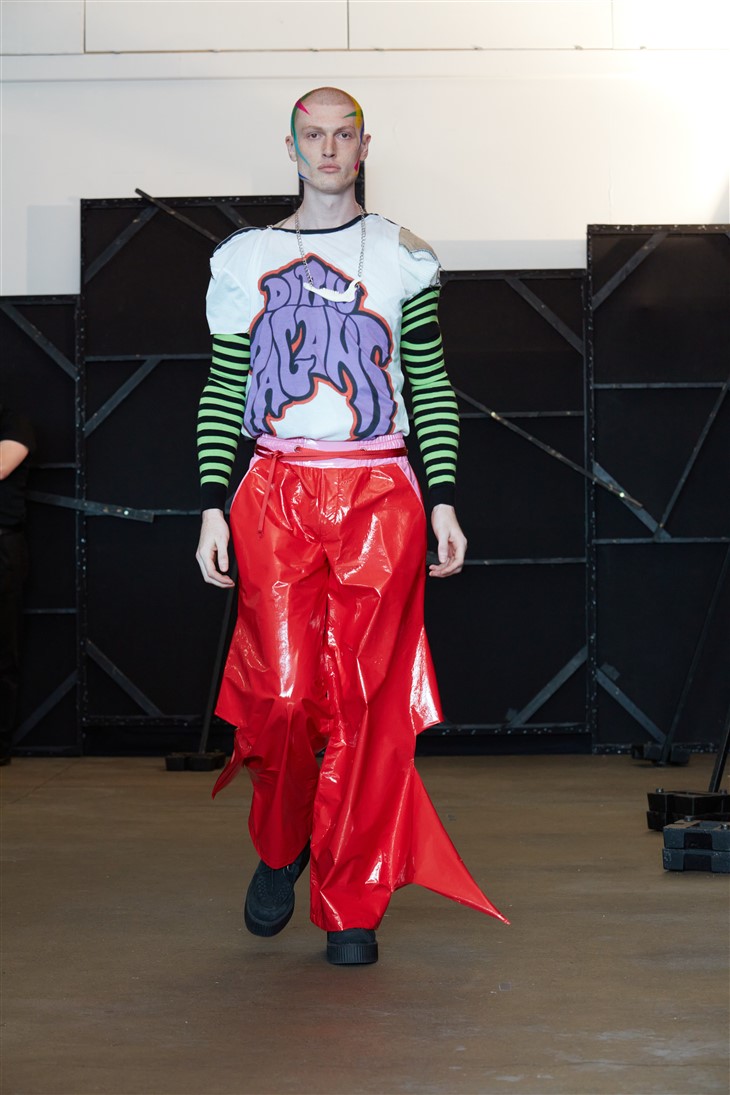 Alice Brightmore
Alice's 'Child of the Stone' collection is inspired by the magical world of folklore, fables, myths and legends. It is an exploration of ritual dressing in Paganism, with youth being at the focus. Brightmore also brings elements of rave scene which are incorporated in shapes and colors, as well as movement and energy which were inspired by pagan worshipers dancing around a stone circle in a ritual.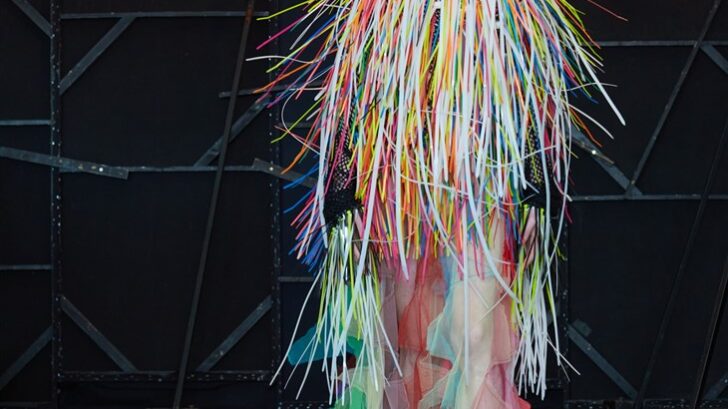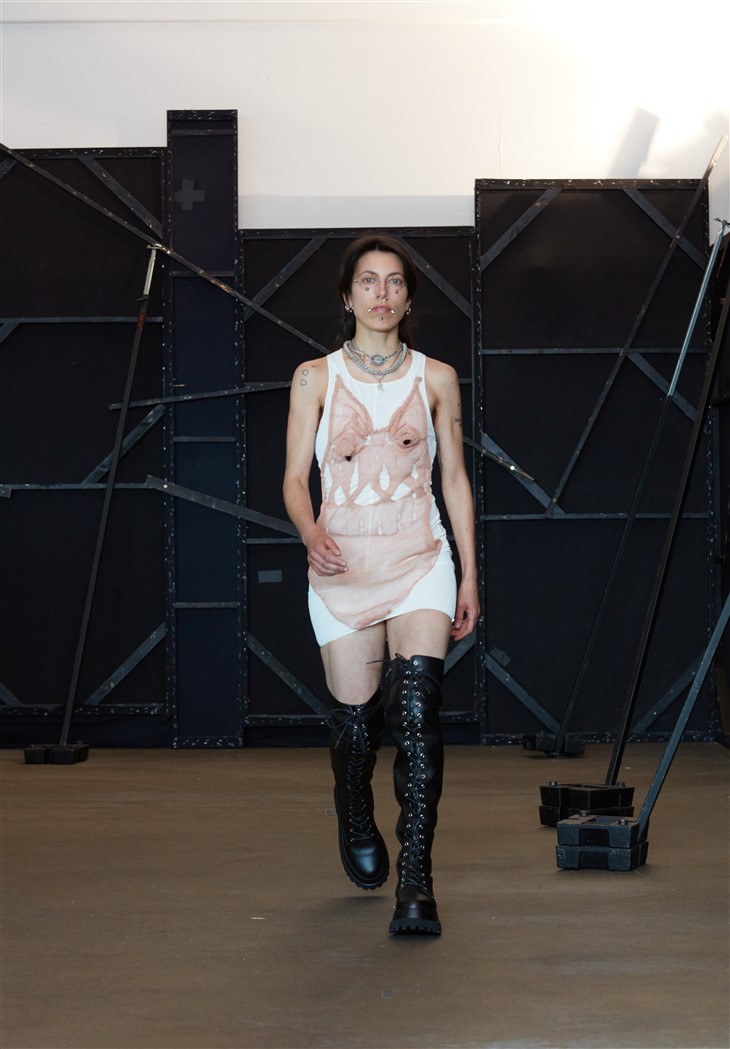 Fangfang Rao Phoii
For MA Menswear collection, Fangfang Rao portrays and celebrates non-binary gender identity for a group of people who are against gender sterotypes. The collection is inspired by her girlfriend's daily outfits, using elements from feminine garment construction and mixing it with masculine tailored suits. Her knit and print designs show an abstract representation of the breasts being pressed by the binder which convey security and comfort to allow the wearer to feel free in their own identity.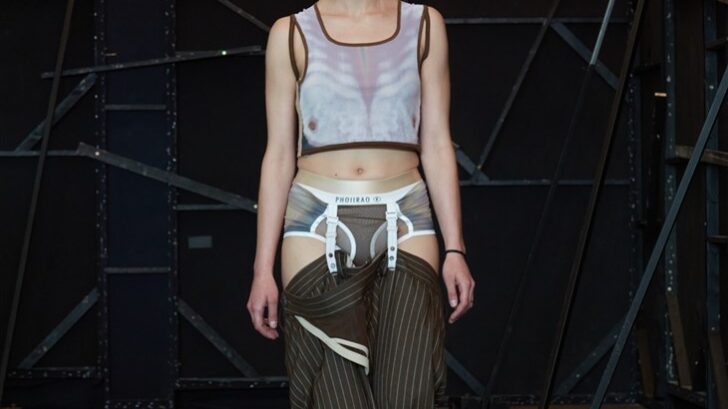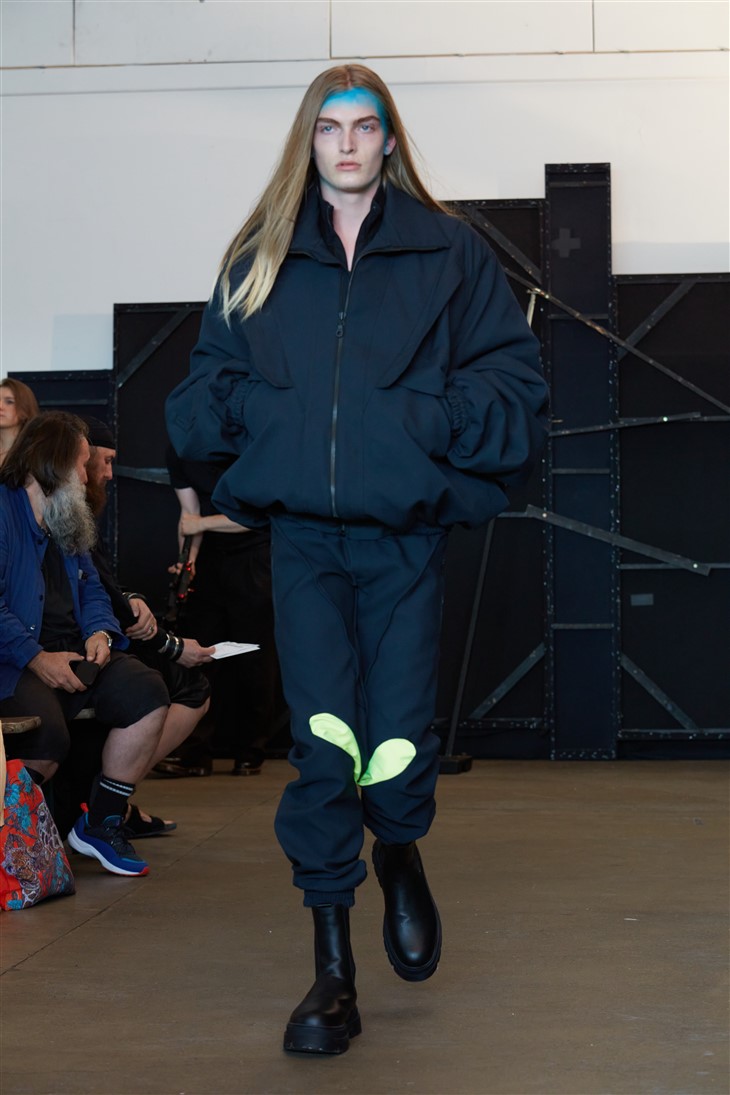 Fanni Flora Henics
The 'Clash' collection is inspired by a collage of two cultures, Austrian and Hungarian. Through this mix designer represents the complexities as well as celebration of living insiude two cultures. The contrast of old traditional Hungarian fabrics, pillow cases and tablecoths from Transylvania, combined with vibrant sportswear fabrics, elevates a sense of two different, but equally complementary, worlds.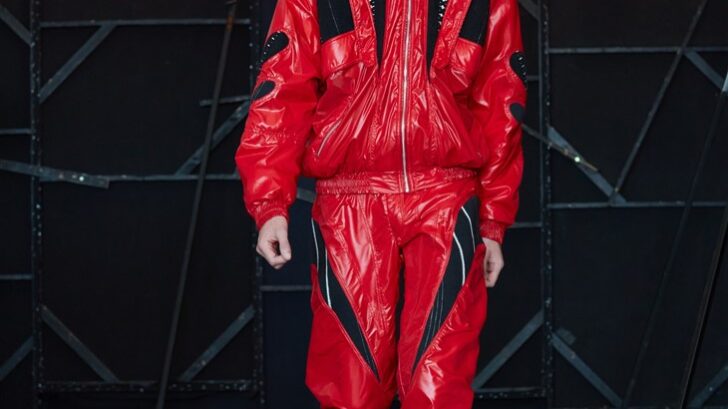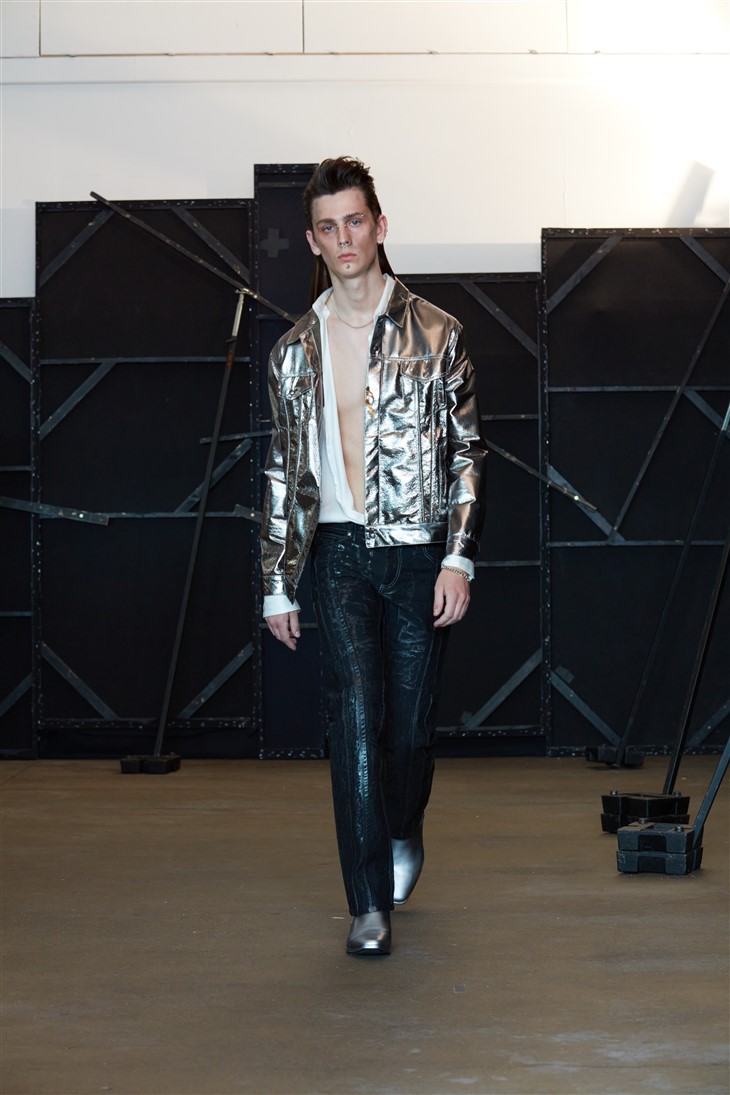 Na Yeon Kim
Na Yeon Kim's collection explors the minimalistic and luxurious lifestyle of people in 90's New York. Kim also questions what 'Right Design' could be in our overflowing society. The refined silhouette has been integrated with improvisatory screen-printing technique inspired from "Abstract Expressionism" and engineered into garments using foil binding.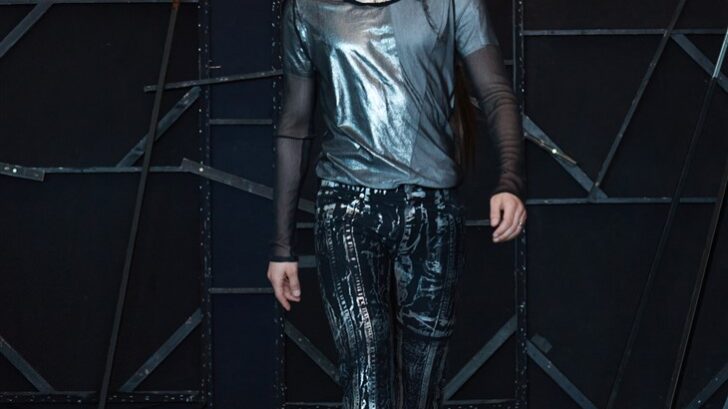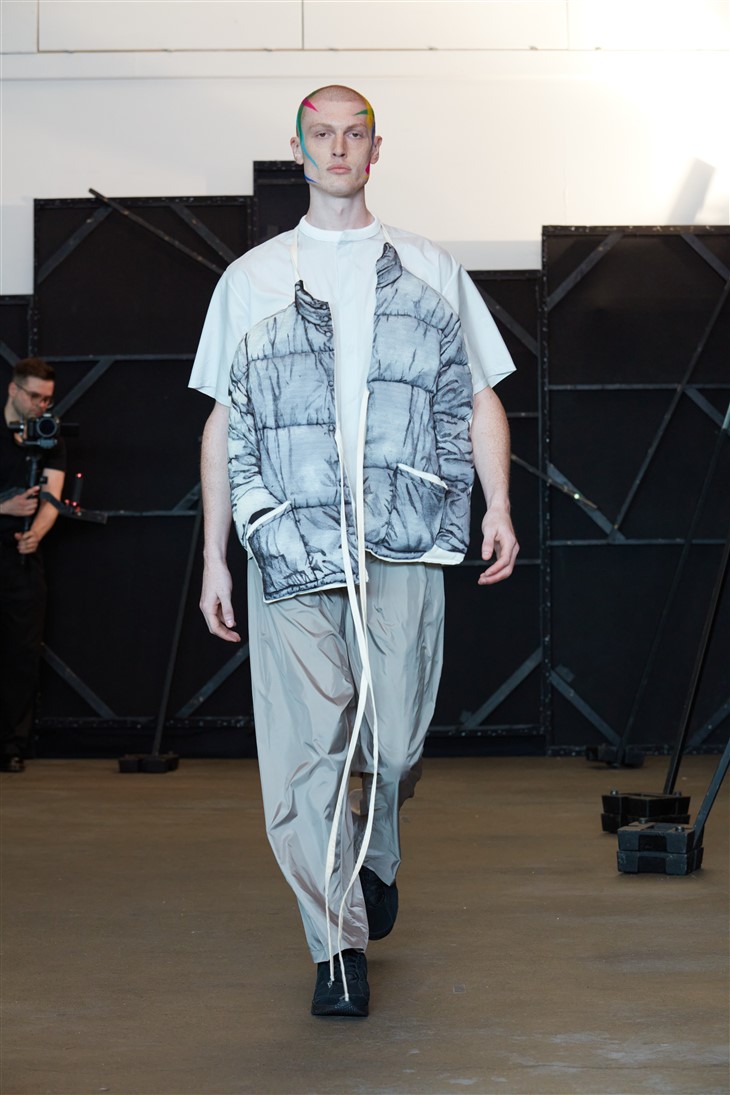 Georgia Wilson
For the MA Menswear Spring Summer 2023 Collection, Georgia Wilson was inspired by the everyday Mundane. Designer's documenting of elements of life through photographs and illustrations can be seen in the collection prints. The collection hopes to create a more ethereal view of the mundane through its sensitivity of light and shade, with recognisable garments and silhouettes that could be seen out in the world everyday.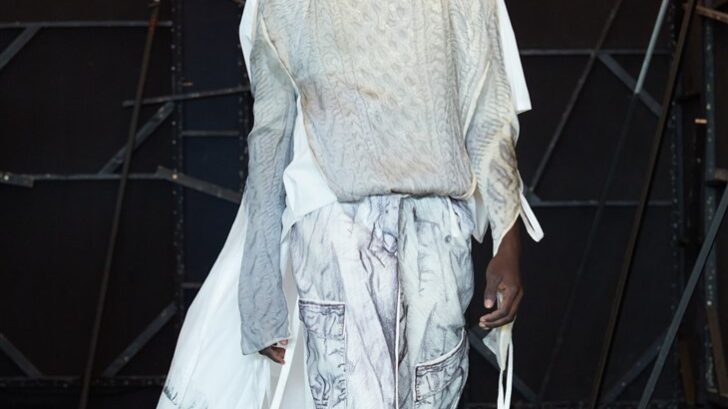 Guangyu Li
Guangyu Li's collection for MA Menswear describes "The self-narration of a Chinese boy" from a sensitive and delicate perspective, combining Chinese and Western aesthetics eclectically. The collection is inspired by photographer Martin Parr, China Diary by Stephen Spender and David Hockney. The nostalgic Chinese romance of grandparents and the mundane life dominate this series of memories.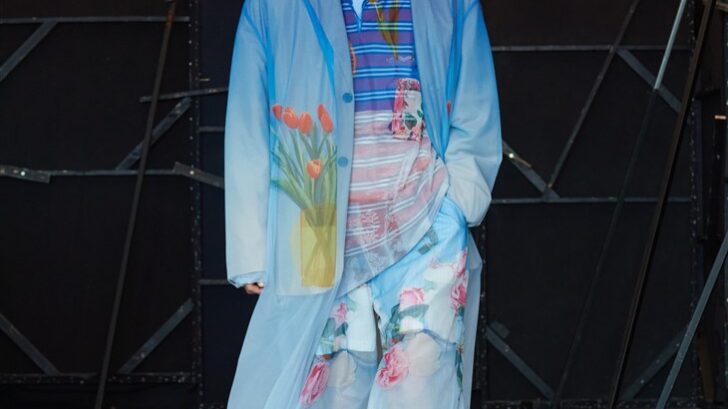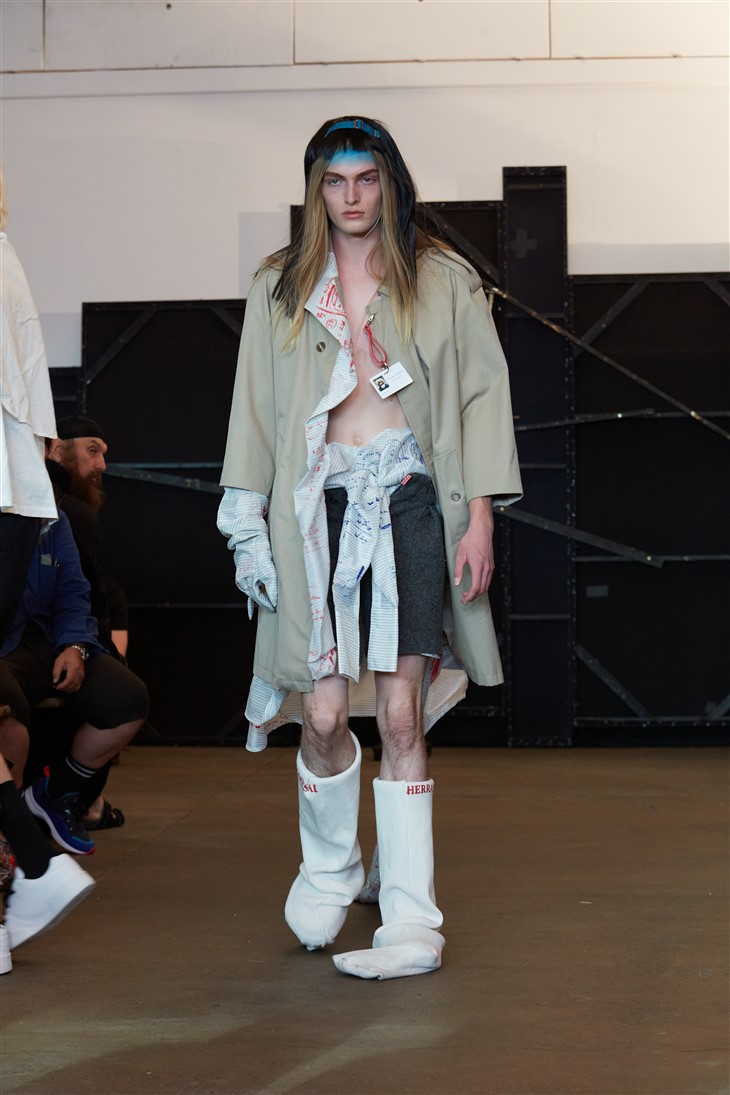 Hsuantsai Chou (Herra)
For the Spring Summer 2023 Collection, Chou is inspired by her boyfriend, trying to become him by copying his routine and his clothes. Herra's collection humorously looks into menswear with an anthropological approach. Herra also pays attention to sustainability by transforming the pre-existing essential items from men's wardrobe.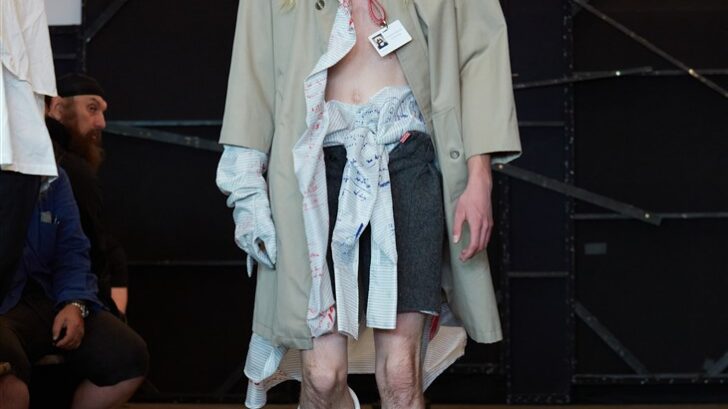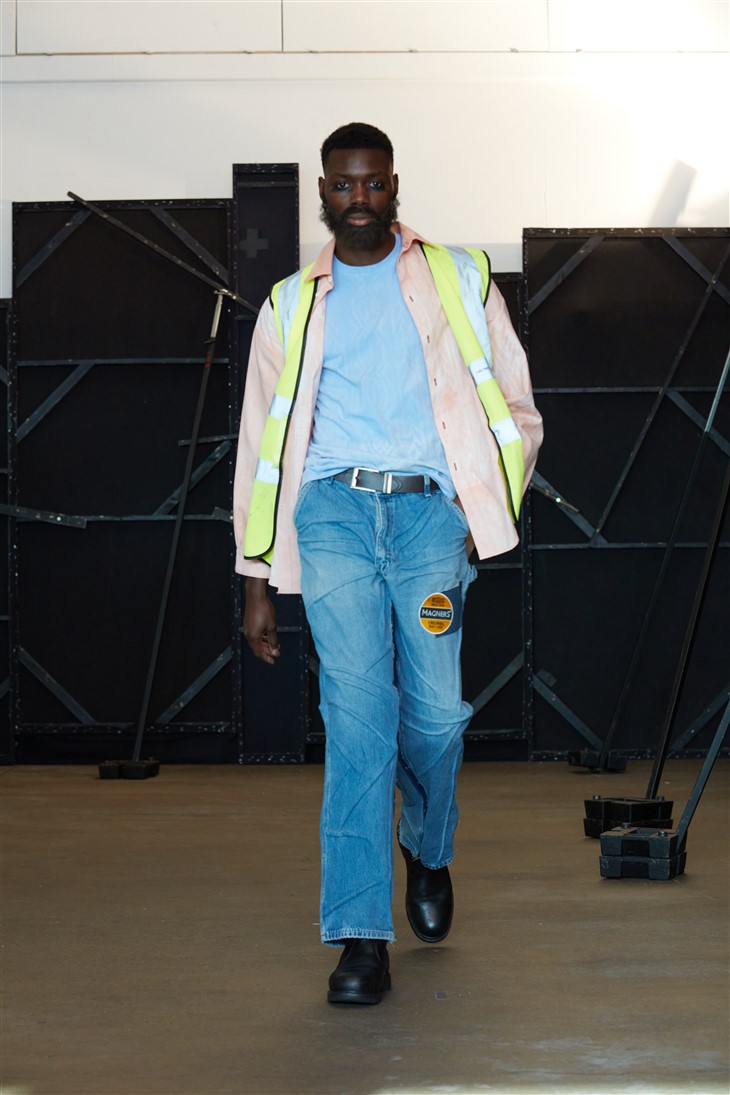 Jasmine Thompson
Thompson introduced the 'Inside the Cork House' collection which exhibits strong inspirations from her own Irish background. The collection also pays homage to the history of the Irish pub and 80s working class workwear. Although there is a strong masculine element to Jasmine's collection, which can be seen through the heavy duties of upcycled and moulded denim, softer displays are also evident with hues of peach and light blues within the colour palette.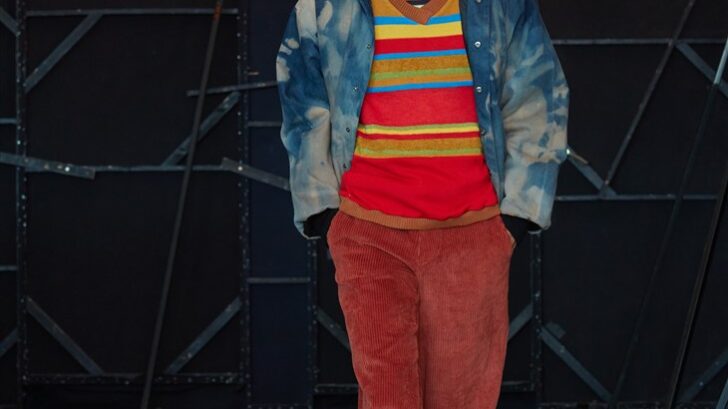 Jesse Lee
For the MA Menswear collection, Jesse Lee embraces the dynamic of vulnerability with 'BE A MAN (with feelings)!' collection. Jesse orchestrated and explored motorcycle racer gears making techniques, Trapunto quilting, cutwork embroidery and Reverse Appliqué to create his playful zero-waste up-cycled collection.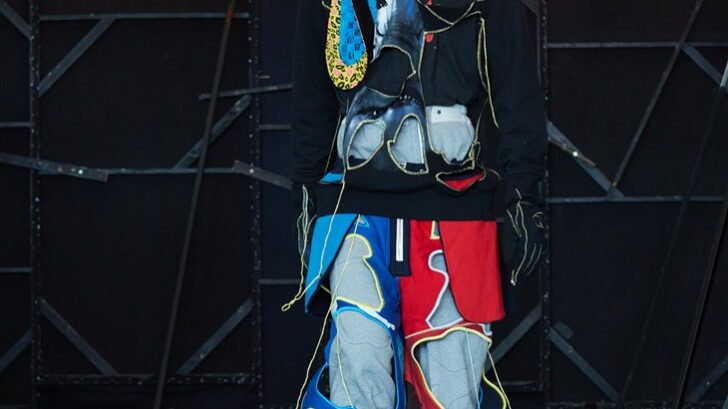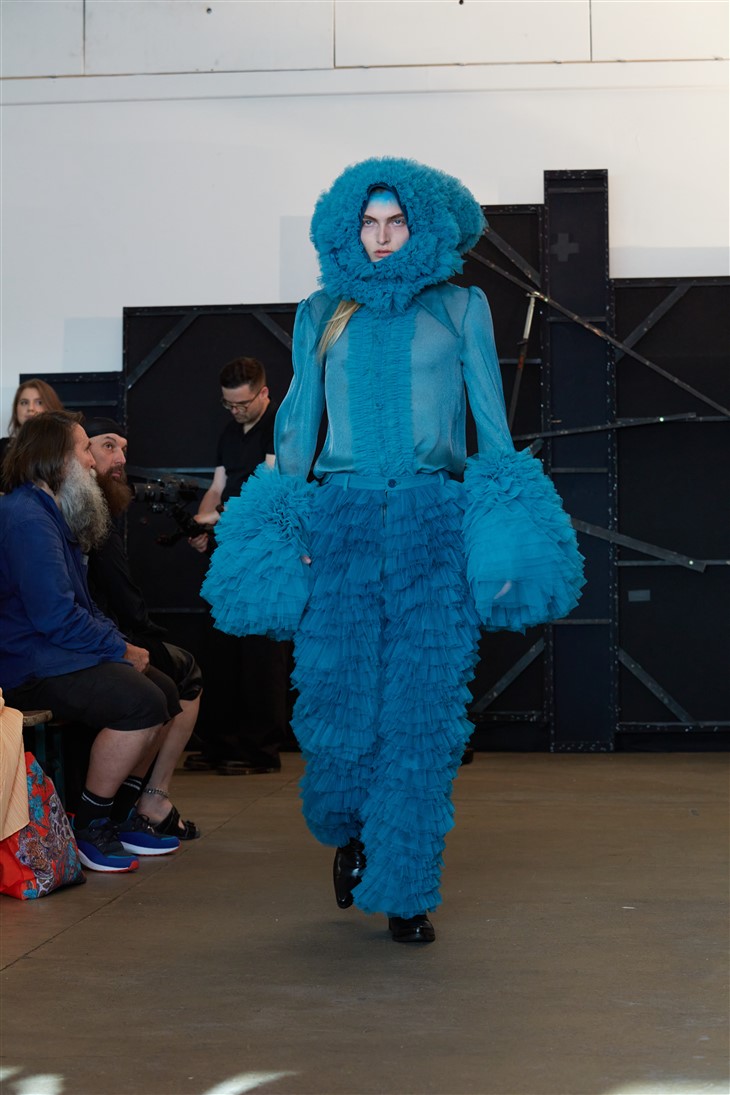 Juoyu Wang
For this season, Juoyu Wang brings a collection not defined by genders. In his opinion there is no distinct line between men's aura and women's. The freedom to express is bringing today's fashion beyond the boundaries of men and women, creating a flow that inspires, rather than binding and fettering. The collection aims to make everyone feel comfortable and portray themselves in the way they deserve.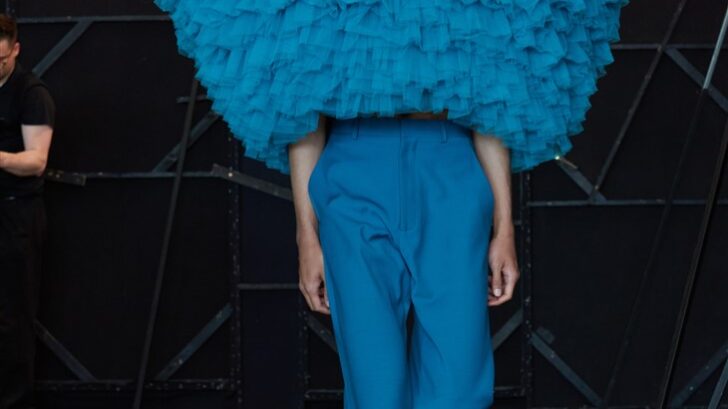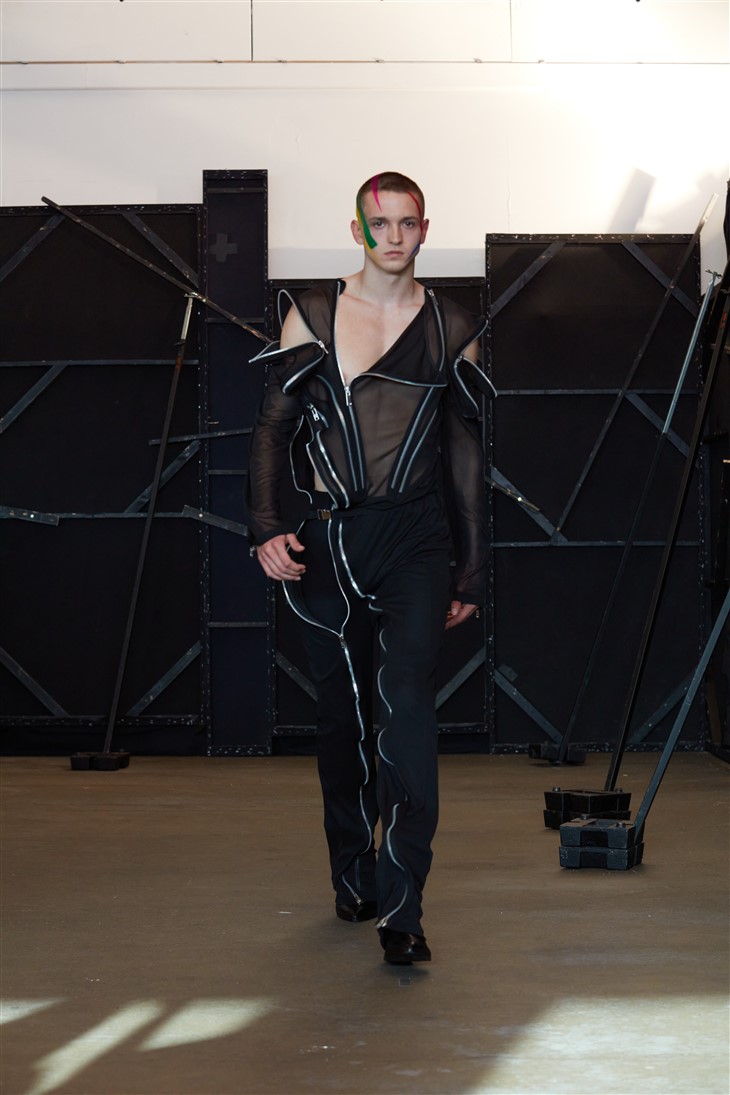 Lingshan Fan
'The Rock Buddha' collection by Lingshan Fan is inspired by her father in her mind an epitome of Chinese masculinity. The collection combines elements of the first generation's Chinese rock with her father's current ceramic collection. This is her personal way of taking advantage of the eastern and western elements in menswear as a carrier to introduce her understanding of oriental aesthetics.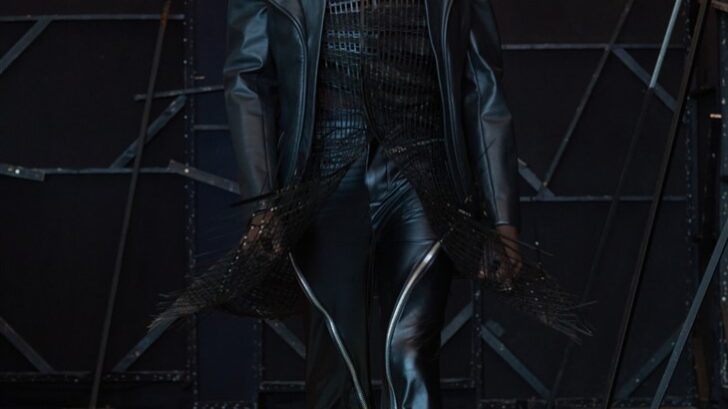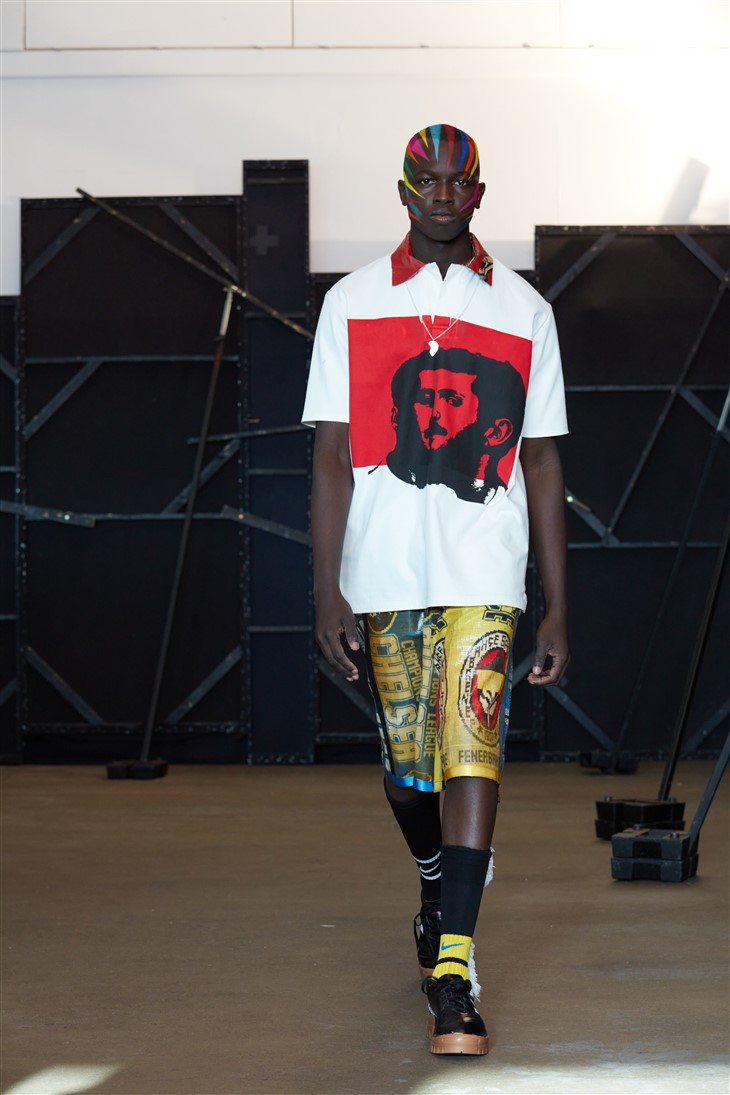 Marcus Wood
Marcus Wood's 'Shame About the Riff Raff' collection expresses the football fans wishes for dressing up in the brightest colors of their team. With an already keen drive towards upcycling and low impact manufacturing, it makes sense that WUDI uses the deconstruction of second hand football scarves as their modus operandi. With the scarves already boasting a wide array of flamboyant colours the collection as a whole gives rise to the more playful, and harmless, nature of football fandom.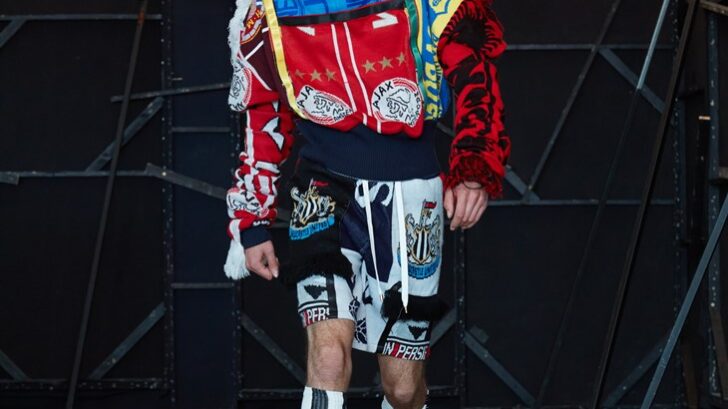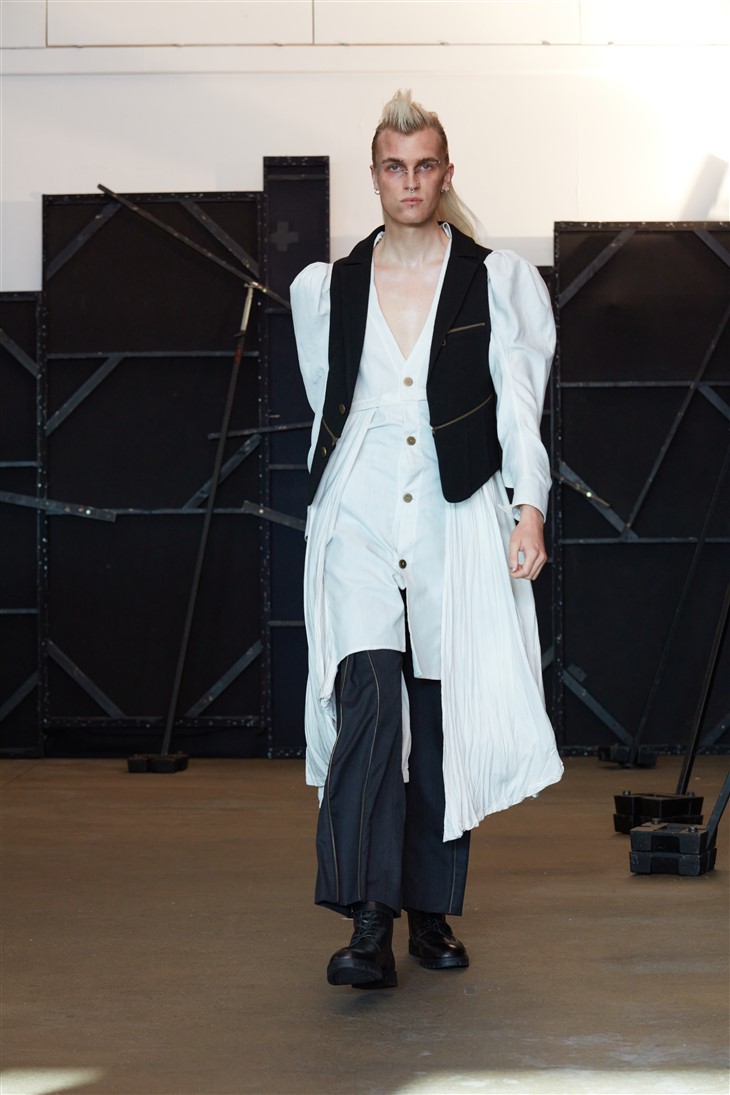 Qian Sun (Eric)
For the Spring Summer 2023 Collection, Eric Sun builds a connection between modern fashion and reneaissance. Inspired by Shoji Ueda's 80s photography and 80s Japanese menswear, Eric takes the silhouette of renaissance garments to create a masculine elegance collection in a modern fashion language. Following the antique black and white style of Shoji Ueda's work, the collection is in a light black, grey and off white with only colour shown by coppery zips. All fabrics used by Eric are heavy washed, bleached or drying with dash black and brown which give all the garments an antique feeling of back to 80s Japan.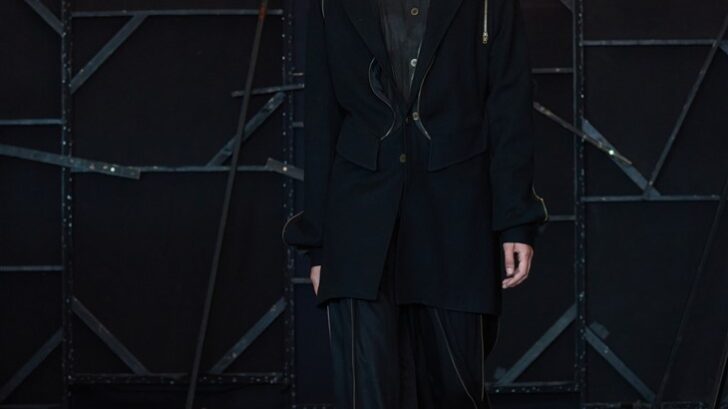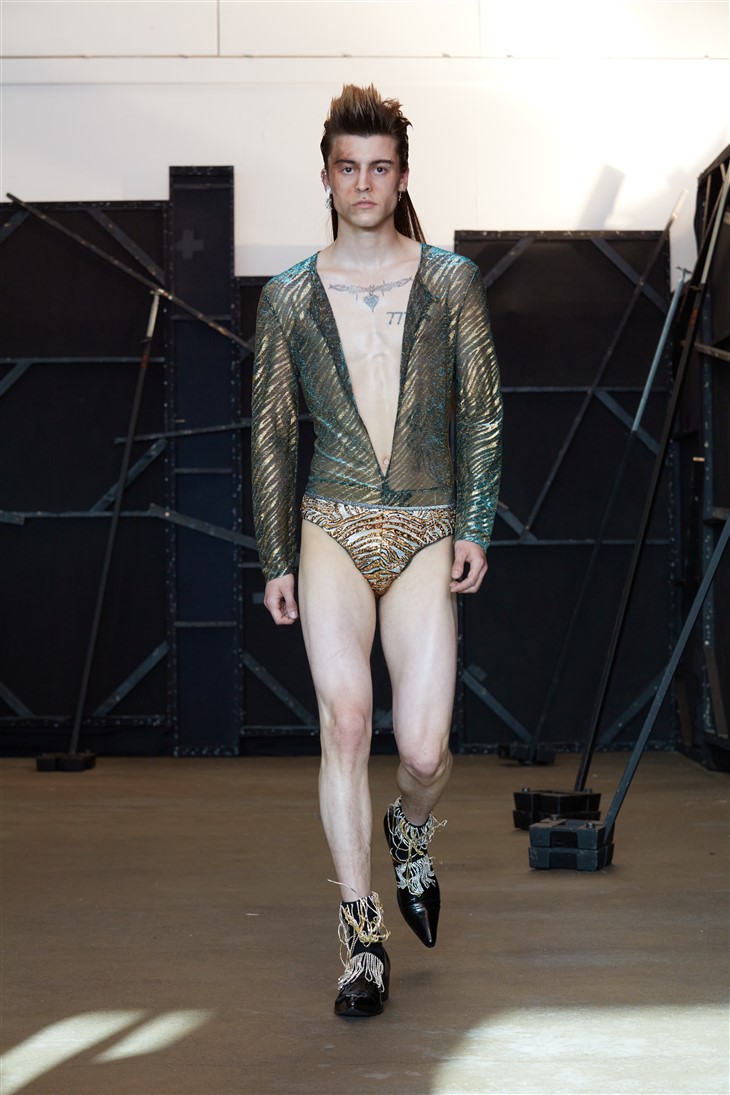 Yuhao Wu (Felipe)
Also featured in MA Menswear collection is Yuhao Wu, who was inspired by the Club Kids and men's tzailoring in the 80's for the Spring Summer 2023 Collection. The core of the collection is gender fluidity. An in-depth study on the fashion and lifestyle of the LGBTQ+ community and their efforts towards liberation and equality has inspired the designer to redefine masculinity. With the combination of elements from Club Kids and 80s men's tailoring, the fluidity between the femininity and masculinity, the underground and the upper-class can also be detected within each look.