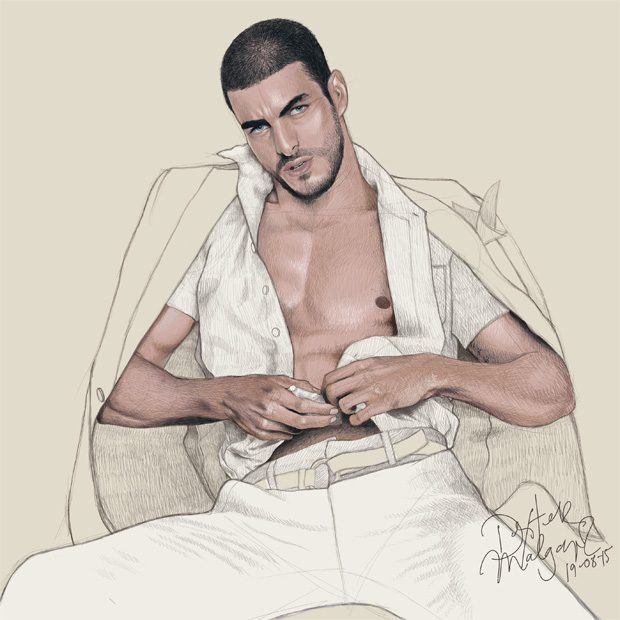 On the both sides of the Atlantic annual reports are showing menswear fashion market is now growing at a faster pace than women's. So what does that mean for the menswear fashion illustrators, well, hopefully more jobs.
After more than five decades of New York Fashion week the American fashion capital has now firmly established the NYFW men's, at the moment taking only four days it is becoming a biannual hot-spot on the lists of editors. Just as in New York, London Fashion Week was mostly presenting women's fashion, with menswear designers taking little to no spotlight on the runways. Few years back London and British Fashion Council established London: Collections Men. With British Heritage Brands such as Burberry moving their menswear shows to London, the 4 day fashion week has garnered attention of the editors. Nevertheless London men's scene is still concerned a hub of young design talent, certainly the editors and buyers are not heading to London for the same men's pieces they could get in Milan.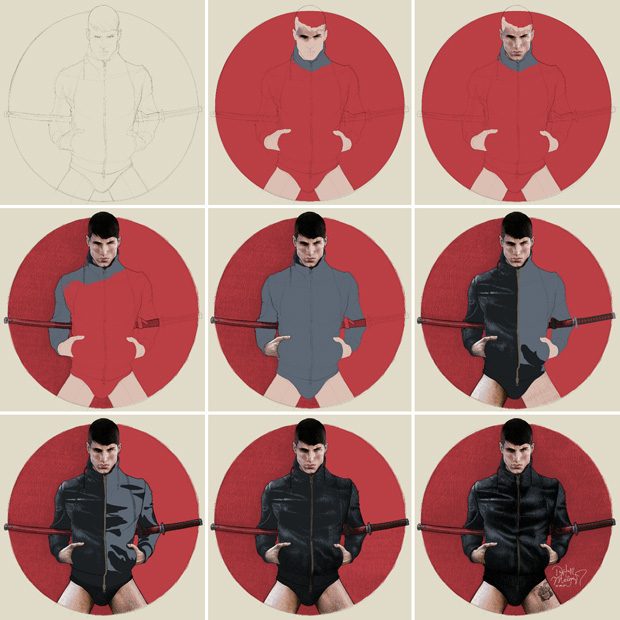 However while women's designers are once again going back to the illustrators. Where does menswear stand? Hopefully, garnering more interest, nevertheless most of the attention with Illustrators working on menswear illustrations comes with their drawings of celebs and ever more popular male models.
First of Illustrators we are happy to single out is DIXIE DYNAMITE, a Dubai based artist who we featured on our pages of MMSCENE Magazine June 2016 issue with an interview. Dixie just as many in the business gets most of his work through his instagram and web portfolio. When asked about the importance of Social Media in today's industry Dixie told us: Very important. Before social media, the only decent exposure artists have were websites that have only a handful of followers. Now, you can showcase your work to the world by posting on Facebook or Instagram. To create the artwork the artist uses "digital cross hatching" and it all started on tablet and stylus more than 2 years ago, for more  visit his profile [@dixie_dynamite].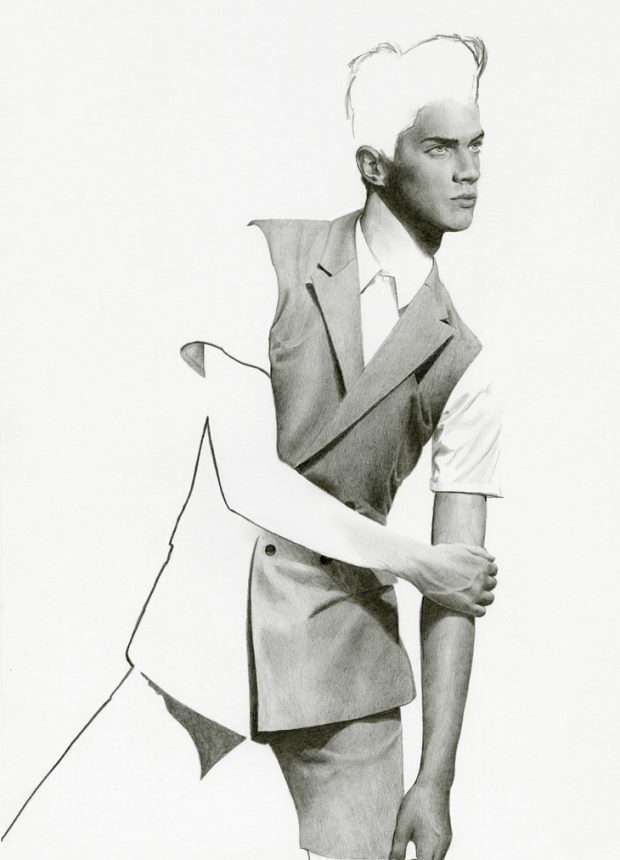 Model Matthew Bell Illustrated for DECOY Magazine by Richard Kilroy, photographic assistance Neil O'Keeffe
Another artist to watch is most definitely RICHARD KILROY, whose illustrations took pages of countless fashion magazines, we have to note he is not specializing only in men's designs. Nevertheless Kilroy as a fan of men's illustrations has long observed the scene, and put together a book of these seemingly easy things to draw, celebrating the craft. Back in February of last year together with Thames & Hudson publishing houses Richard published MENSWEAR ILLUSTRATION paper back book featuring over 40 talented artists. For more of Richard's work visit his instagram [@richardkilroy].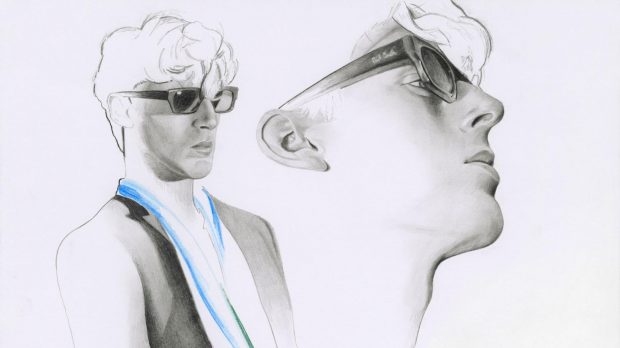 Paul Smith look recreated for the MENSWEAR ILLUSTRATION book by Richard Kilroy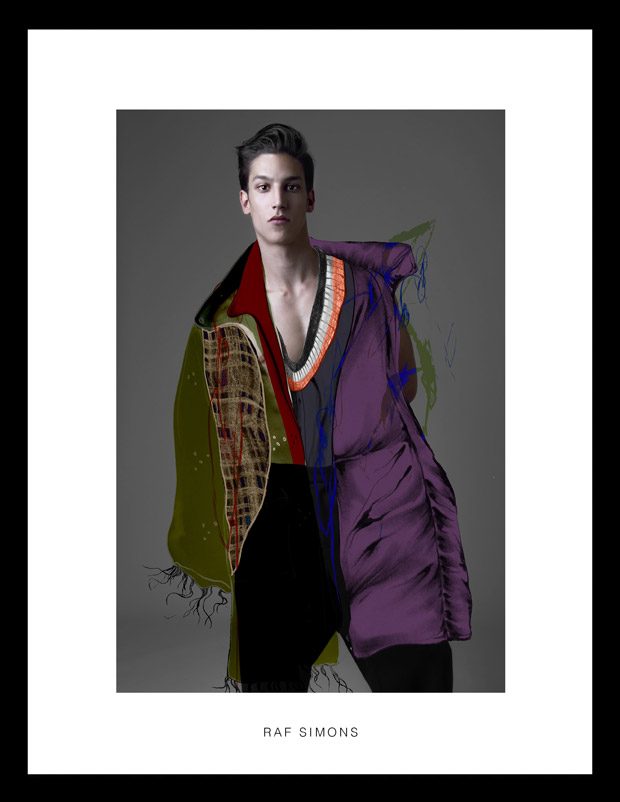 Another of artists we ourselves work with is the talented FILIKH RAJA for the July 2016 edition of MMSCENE Magazine we collaborated with the talented artist on a set of illustrations. For us the collaboration started 6 months before in Milan, where we teamed up with photographer Michelangelo Cecilia and the promising model Iasonas Laios from d'men at d'management Group. Iasonas has to imagine posing in the lush pieces from the Fall Winter 2016 collections (at that moment yet to take the runways). Weeks later Filikh took to his drawing board and the pictures of Iasonas to add up the looks from the likes of Prada, Burberry, Daks, Raf Simons, Versace and Les Hommes. More of Filikh's work is available on his instagram page [@filikhraja] (See our full illustration story starring Iasonas by Filikh and Michelangelo).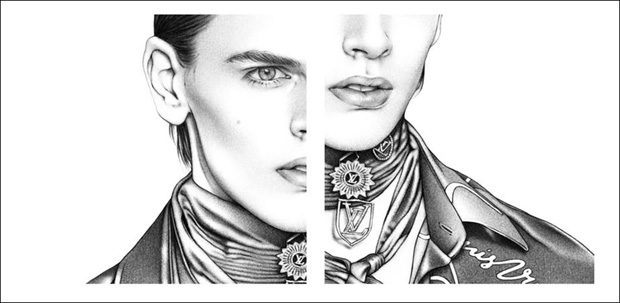 Furthermore another artist to watch is definitely Illustrator MAGDA ANTONIUK, her client list is simply said massive, her realistic approach to illustration is recognized by magazines such as ELLE Magazine, Wallpaper*, Dossier, AnOther magazine and DAZED only to name a few. In addition she works on projects with fashion clients such as BALLY, Paul Smith, Gucci as well as Stella McCartney. For more of Magda's eye catching work visit magdaantoniuk.com.
Words by MMSCENE Editor Zarko Davinic
Any other illustrator you would like us to know about? Let us know in the comments below, we would love to hear from you.