The Jaeger-LeCoultre Autumn 2023 campaign brings together Global Ambassadors Nicholas Hoult and Anya Taylor-Joy in a captivating new film that pays tribute to the enduring values of patience, humility, hard work, and dedication to excellence. These are the values that have guided La Grande Maison throughout its illustrious 190-year history.
Nestled within the walls of its Manufacture in the Vallée de Joux, generations of engineers, watchmakers, and craftsmen have woven an exceptional legacy of skills, encompassing 180 different crafts and savoir-faire, offering almost limitless possibilities. Across nearly two centuries, the Manufacture has created over 1,400 unique calibres, with more than 430 patents that have left an indelible mark on horological history. Renowned as the "Watchmaker of Watchmakers," Jaeger-LeCoultre has designed, produced, and assembled some of the world's most renowned watch movements.
At Jaeger-LeCoultre, the belief is that mastery, whether in watchmaking or any creative endeavor, springs from patience and unwavering dedication. Greatness is the result of transforming innate talent into refined skill, day after day, achievement by achievement. Passion finds focus and commitment, drawing inspiration from years of learning. Expertise is forged through countless small increments, honed and perfected over time, leading to excellence evolving step by step. Just as in music, art, performance, literature, and design, the same principle holds true in watchmaking, as encapsulated in the Jaeger-LeCoultre Manifesto.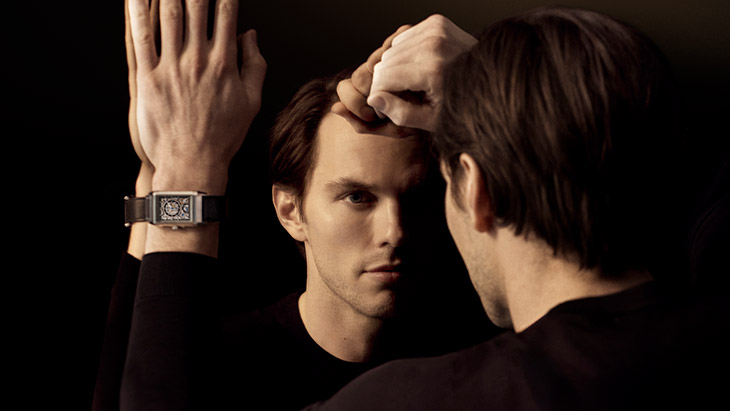 The new short film, directed by French visual artist and creative director Quentin Deronzier, continues the story initiated in the previous video featuring Lenny Kravitz and Anya Taylor-Joy. The Reverso, a timeless icon, remains central to the narrative. In the Jaeger-LeCoultre Autumn 2023 film, Nicholas Hoult adorns the technically sophisticated Reverso Tribute Chronograph in steel, while Anya Taylor-Joy graces the screen with the elegant Reverso Duetto Small in pink gold.
The Reverso Tribute Chronograph transitions from its understated Art Deco-style sunray-brushed front dial to a meticulously skeletonized and adorned reverse dial, featuring a second display of time alongside the chronograph registers.The Reverso Duetto Small, designed for day-to-night wear, showcases two dials with contrasting moods, capturing its versatility since its inception in 1931. Both models epitomize the limitless potential for reinvention that defines the Reverso, reflecting Jaeger-LeCoultre's unwavering pursuit of excellence in both technical innovation and aesthetic design.