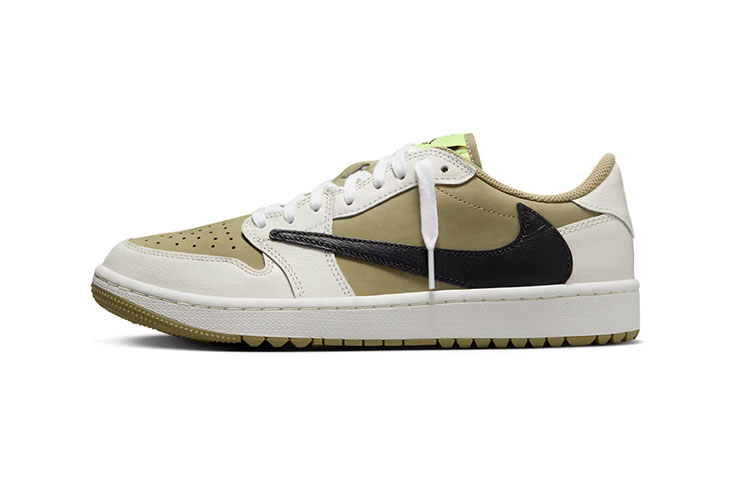 In an era where shoe releases are frequently met with enormous lines, rapid sellouts, and high resale prices, a London-based golf retailer has chosen to diverge from the conventional path.
Instead of simply enabling sneakerheads to line up and purchase the latest Travis Scott x Air Jordan 1 Low golf shoes, they've created a unique challenge. A challenge that combines the world of sneakers with golf skills, making the purchasing process a thrilling and special event.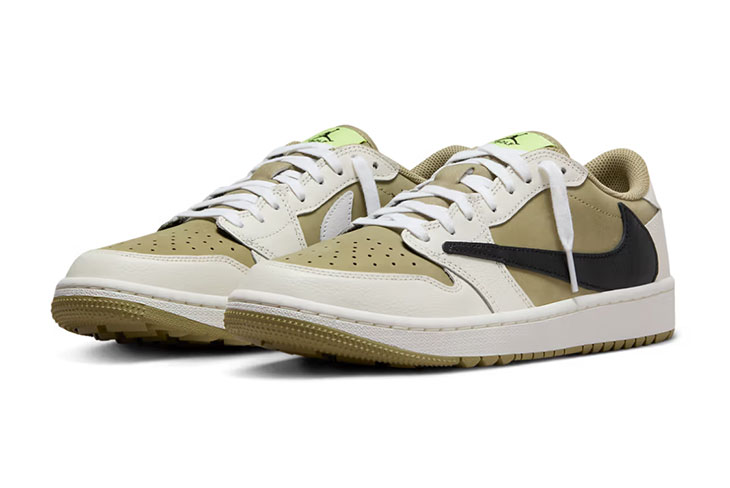 Golfing Prowess over Sneaker Obsession
Instead of merely selling these sought-after sneakers, the store wants consumers to demonstrate their golfing abilities. To qualify to purchase the Travis Scott Nike Jordan shoes, you will have to make 2 attempts to drive the ball 200 yards or more (150 yards or more for ladies). This is to ensure that the shoes are being purchased by golfers rather than resellers. – says the store's website.
The Travis Scott Jordan 1 Low Neutral Olive has already received a lot of attention for its design, which combines the legacy of the basketball court with the peacefulness of the golf green. It's no surprise they're in hot demand, with features like the famous reversed 'Black' Swoosh, the 'Neutral Olive' base contrasted with overlays of 'Sail' leather, and the 'Light Lemon Twist' branding.
The store behind this brilliant concept, Trendy Golf, has announced that the shoe showcase will take place on September 10 at an unnamed location. Those who win the store's raffle will still have to complete the golf simulator challenge to establish their eligibility to purchase.
"For Golfer, Not Resellers."
– Trendygolf
The past few years have seen a surge in sneaker reselling, prompting businesses to implement a variety of techniques to assure fair purchase possibilities for genuine fans. Resellers have faced numerous challenges, ranging from online bot crackdowns to a recent drop in sneaker demand. They may now need to add golfing talents to their repertoire.
A drive of 200 yards might seem like a long way to go to someone who has never played golf before. While seasoned players may scoff at such a distance, it presents quite the challenge for the average person, especially when considering that they only get two swings at it. According to current research, the typical driving distance of golfers with medium to high handicaps is between 187 and 204 yards.
This competition offers true golf fans the chance to combine their love for the sport with their interest in fashion, and it could be just the thing to satisfy both of those passions. They will not only be able to show off their fashionable Travis Scott golf shoes, but they will also wear them as a badge of pride, demonstrating their mastery of the game of golf.
This creative approach to business by Trendy Golf is not merely a clever sales tactic; rather, it is an exceptionally astute marketing maneuver. The retailer assures that its customer base is comprised of genuine individuals by coupling the purchase with a golfing challenge, which also intensifies the hype surrounding the product. In addition, the competition is likely to draw actual golfers who are eager to test their abilities, which will make the launching of these Jordan golf shoes into an entertaining golfing spectacle.
A Closer Look at the Sneakers
The relationship between Travis Scott and Air Jordan has, from the very beginning, been closely associated with originality, style, and a profound respect for athleticism. These characteristics are exquisitely encapsulated in the Travis Scott x Air Jordan 1 Low golf shoes that are scheduled to be released on October 13.
They have a base color that is referred to as "Neutral Olive," and it provides a striking contrast with the overlays of "Sail" leather. The branding of 'Light Lemon Twist' gives an additional level of elegance to the product. One of the details that draws the most attention is Scott's signature, which is a reversed "Black" Swoosh. This is a design element that has been praised ever since it was introduced in his 2019 Air Jordan 1 High OG "Dark Mocha" sneakers. Although they have their origins in the world of basketball, these shoes can be worn with equal ease on the golf course, making them an absolute must for anyone who is passionate about both golf and sneaker culture.