Beside from helping one to keep track of time, watches are also worn to compliment the outfits that we wear. Moreover, the watches are convenient since many of them are self powered and they can operate for a long time in the field. There are stylish watches which you can get under $500 thus one can afford the watches without stretching themselves financially. Unlike women, men opt to wear the watches since they are the only accessories that a man can wear everyday. (image: Parker Gregory by Taylor Miller for MMSCENE)
Read more after the jump: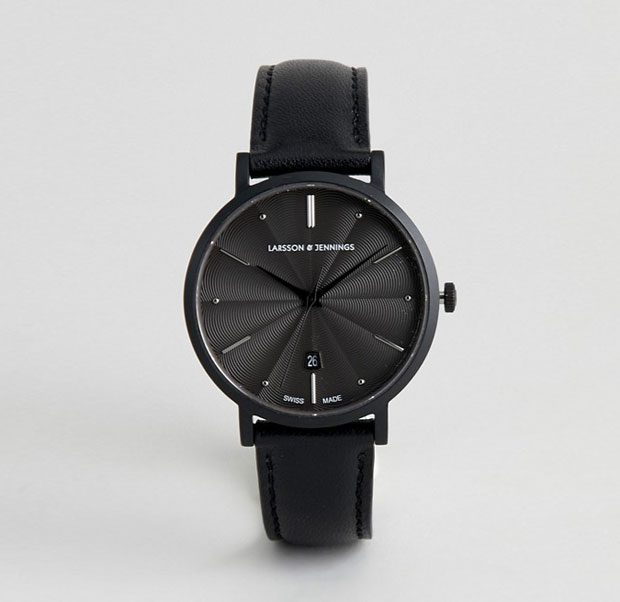 Larsson & Jennings Aurora leather watch in black 38mm at ASOS
However, when you are purchasing a watch, you need to consider the following:
● Ensure that you get the right size that fits you well.
● Make sure that the watch is durable- this can be ensured by confirming that the straps are tough.
● You should also consider the quality of the watch before purchasing
Timepieces ranging under $500 make it easier for men to get the watches of their choice at an affordable price. Most of these watches are worn with respect to their purposes. For instance, there are watches worn during official meetings, during races and also there are others meant for diving.
The most stylish watches that are worn by men are notably:
Aviator watches
Being a male pilot, this is the best model to pick. It is purposed for aviation that is why pilots widely use them. The aviator watches have got the best quality, and they are also available in different sizes. The watch has an onion-shaped crown, and it is also closed with a leather strap. Once you get yourself a classic aviator watch, then you are guaranteed on the ease of count and even readability. The aviator watches are the best model one can get. The prices are affordable, thus one does not need to overstretch financially to get a watch.
Some features such as characterize the aviator watches:
● They have high contrast hands
● They have Arabic numerals
● They also have indexes
● They have large and highly legible open dial
● They also possess the flight computer bezel marking which helps in burning of the fuel, wind collection angles and also do other calculations.
Field watches
If you are looking for a good watch when you are on the battlefield, field watch is the best model to select. These watches are made to be tough though some buyers may go for the fake ones unknowingly. These watches are available in different types with different prices. Most of these watches are under $500 thus making it affordable to men. You can use this watch when doing physical work since it is light and also durable thus cannot get spoiled by the hazards that may occur.
Some of the features of the field watches are notably:
● They are waterproof to around 330 feet
● They are light, thus making them suitable for working fields
● They are made of sturdy leather thus making them durable
● They are pleasing to the eye, thus making you look elegant when wearing them
● They can be relied on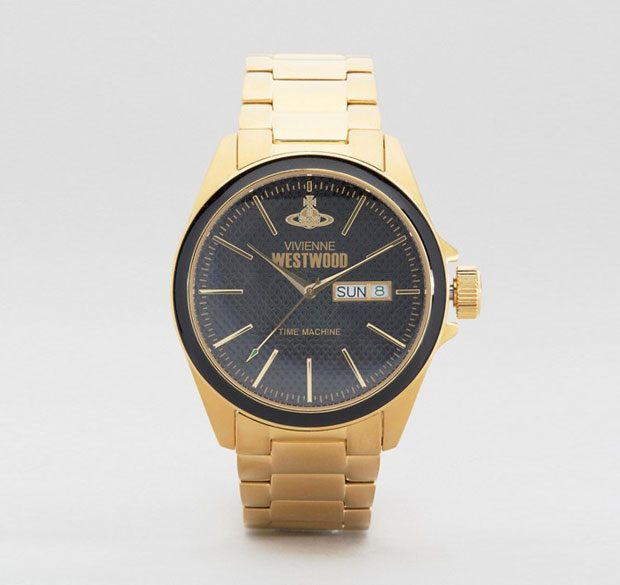 Vivienne Westwood gold metal watch at ASOS
Dress watches
These are the watches that are mostly worn to complement a formal outfit. For instance, men wearing suits may require a watch to complement their wear; this is the best model to go for. These watches are not necessarily
meant for accuracy in timekeeping thus most of these models lack the seconds' hand. This type of watch should have slim straps since they are worn on official occasions. Men should also ensure that the leather and metal parts on the watch should be part of their dress code. For instance, they can opt to wear leather shoes and also belts with the metal part. These models have favorable prices, thus they are affordable to many. An example of a dress watch is the Nordgreen Pioneer Chronograph watch with a leather strap which is accessible at a rate of $269. You can check these chronograph watches here.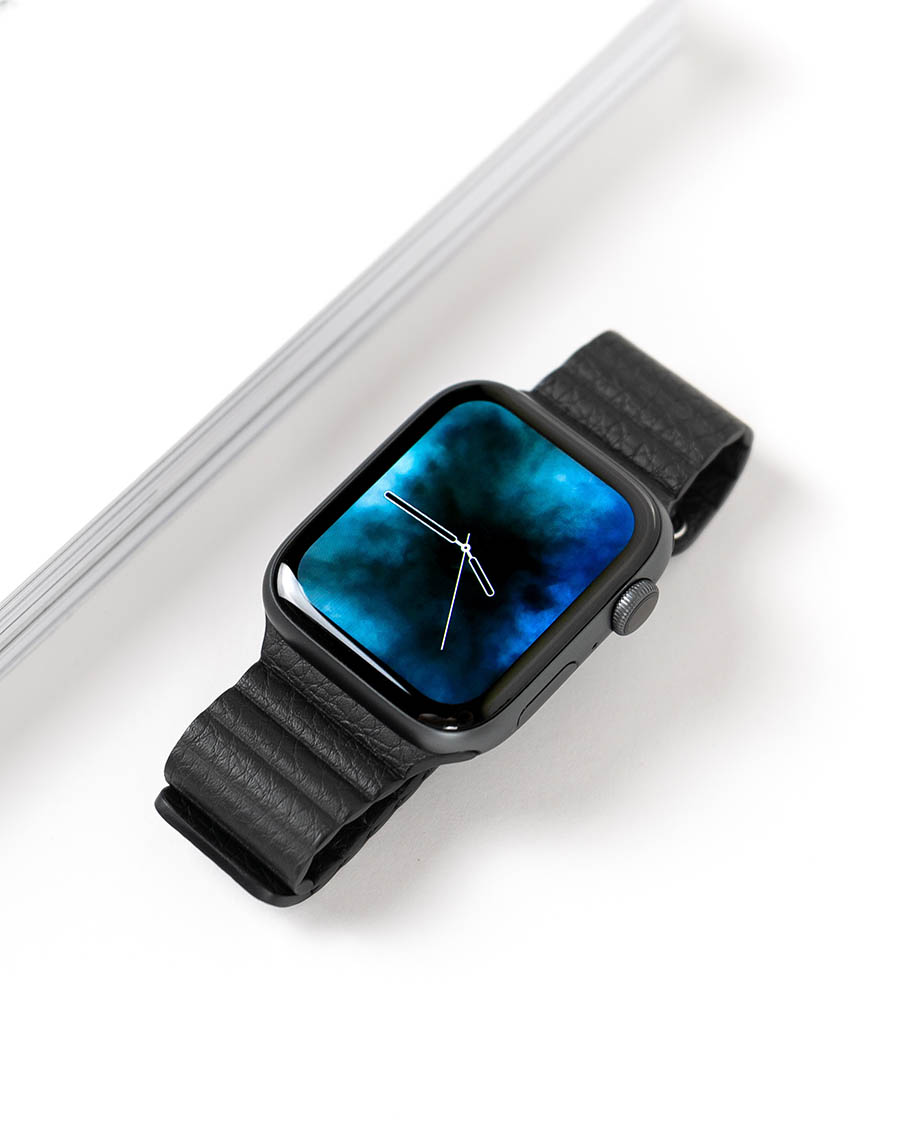 Smart Watches
Digital watches have been around for decades as they offered calculators, converters, calendars, and more. Today smartwatches are taking the world by storm as they offer a variety of smartphone features. These watches are stylish, modern, high-tech, and favorable amongst millennials.
Smartwatches come with a touchscreen that allows you to manage notifications, incoming calls, music, view messages, track footsteps, monitor heart rate, GPS, and so much more. Some smartwatches even offer sleep tracker features that track your oxygen levels, sleep stages, and movement sensors. So if you are looking for a watch with these abilities, see this sleep trackers guide on Superwatches.com.
The beauty about this watch is that it can be worn on any occasion and make you look stylish. It is one of the most trending watches in today's day and age, and a wonderful piece of technology that you can add to your watch collection.
Dive watches
Men who dive frequently need these watches since they are modified to make such specification. They are the best since they are waterproof up to around the depth of 200- 300 meters. You can get these watches at a lower price of below $500.
Some of its features are notably:
● They are water resistors
● They are easy to read, unlike the dress watches
● Durable strap – the metal straps are well suited to the sea water thus making them stainless.
● They have a durable case – this case can be able to withstand the sea pressure and also prevents the water from entering the watch.
● They also have rotating bezel – the watch bezel works by informing you how long you have been under the water and also the depth.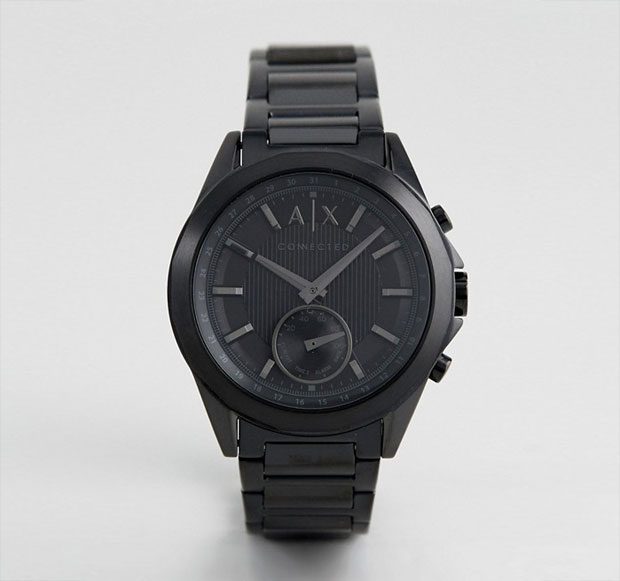 Armani Exchange Connected AXT1007 bracelet hybrid smart watch in black at ASOS
Racing watches
These models are available in different colors and styles, unlike the field watches which have like one color. Race watches are distinguished by purposely two features, notably Tachymeter and chronograph. The primary purpose of these features is to show the distance covered within a specified time. Race watches are mainly used to compliment the race cars and also their drivers. There are different models of these watches which are available at various prices which are affordable to all. Examples of racing watches are the Rolex Daytona, the Steve McQueen Monaco and the Speed master.
Men are not only attractive because they have cute faces rather they appear to be more attractive when they make the right choices. Making the right decisions means to get the best stylish watches. For men to compliment their outfit, they have to select the best smart watches and elegant ones. You are not only supposed to consider the price of the watches, but also the quality of the watches matters a lot. Also, do not go around buying watches just because you need to see something on your wrist. One is supposed to select wisely the watches according to their purposes. For instance, if the watch is meant for sports, then the best option is the racing watches. Generally, watches are part of the dressing code since their main aim is to compliment the attires even though they are not clothes.