Our Editor ZARKO DAVINIC explores the ins and outs of social media for MMSCENE Magazine 023 – June / July 2018 Issue, as well as the marketing industry's new take on the influencers definition and what it means for the fashion and modelling industry.
Millions are following influencers such as Toni Mahfud and Mariano Di Vaio for years now, while some of these stars use their socials to share their art and work other like the later are pure definition of marketing industry's latest step. However with them growing from bloggers as we see them launching their brands and start families, you can't but not question what is the next step. In the past few weeks, Instagram's new algorithm made life for these mega-influencers a bit harder, further cutting down their reach and perhaps opening the door once again for the fashion models back into their own domain.
THE INFLUENCER FORMULA
It's hard to believe the marketing industry is to forget the influencers formula anytime soon, instead the new order of marketing agencies is not even interested in the fashionable influencers anymore. Gillian Kempner, CEO of advertising platform New Media Sponsor, a platform connecting everything social media, is not interested anymore in reality mavens or supermodels. Instead the new step is targeting the regular Joes and Janes, thanks to the algorithm changes people with less than 50,000 and even 10,000 followers are becoming much more interested. "People like to have an opportunity to make money, being an influencers somehow shows you are willing to work hard. It is no surprise regular civilians are interested in the peace of cake as well. Not only do the rates grow smaller than enlisting a bonified one million plus influencers, you are also finding people whose style is still unique, with a steady line up of instagrammable pictures with a purpose." However while the number of followers is directly connected to how much you earn, obtaining a post from an influencer who grew his audience in organic way – did not engage in buying fake followers, won't come cheap. An average on industry level for locking a post on a few over over 100,000 Instagram followers is to cost you around $1000, while a YouTuber with over 100,000 subscribers is to charge you a minimum of $2.000. Snapchat might be slowing down, but still a 24 hour campaign on snapchat for 1,000 to 5,000 views is to cost you around $500. These price quotes vary based on how loyal and actually engaged your followers are. If we are to look over to the Kardashian camp, allegedly Kim Kardashian's minimal fee for an Instagram post is $250,000 and going up. Press release distribution is an integral part of any magazine or media page in today's fashion industry. Influencers alike are included in press release reports sent out by fashion and design brands.
EVERYBODY's FIVE MINUTES
However when hiring regular Jane's and Joe's you can find a strong engagement even for a price quote of $15 per post! With now a growing number of agencies offering lists and lists of young people, stay at home moms and DIY civilian's willing to monetize their own feeds. This now endless pool is perhaps a hit or miss strategy, yet for lower budgets it's proven to give better results than paying thousands or even hundreds of thousands to a mega influencer.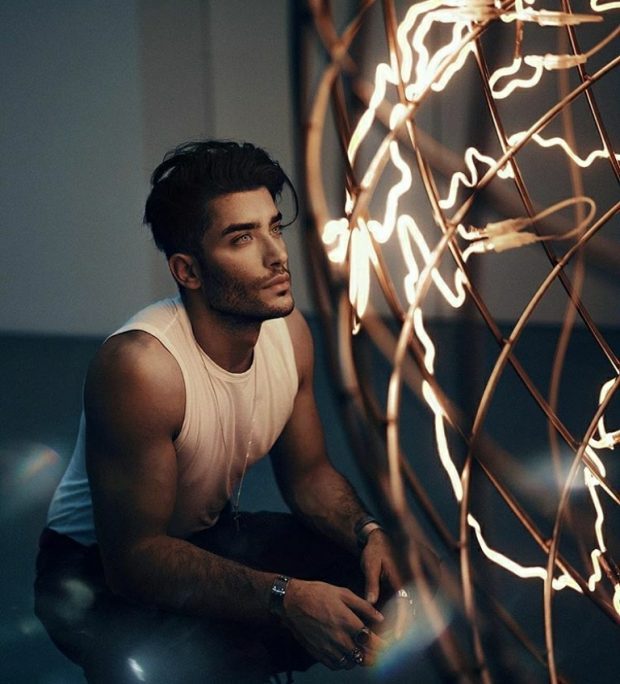 Influencer Toni Mahfud mixes his love for art with modeling on his isntagram page – @tonimahfud
However when it comes to the fashion and modelling industry, while a massive social media following is a way into the industry for regular Joes into the model industry it is also a way out for the working models. Still we can name a slew of people who neither have the height or perfect measurements – Cameron Dallas, Rhodes brothers and Jake Paul to name Paul who entered the ranks of the fashion industry. Not only did they enter the ranks, they also took the jobs of the 'real fashion models'. In their case, the massive following appealed to the fashion marketing execs, giving them spotlight not only on their runways but also in their campaigns. While some designers such as Dolce & Gabbana have for a while now engaged the popular IG kids but also the popular family names – such as this issue's cover boys who are now thanks to their family names making a name for themselves.
Nevertheless, the fashion industry is hardly the place for the most glamorous jobs out there, from hassling and sleep deprived editors to models who have to be on standby day and night. Still for many of the models the social media was a complete game changer. While generating hundreds thousands to millions of followers, you are not anymore dependent on jobs provided by your fashion agency. If anything the agency itself is now depending on your social media power. Just like every successful model agency likes to cover every possible 'trendy model look' of the moment, they also do love to have an army on 'influencers' on the stand by. "There are models who are already influencers, there are clients who are really obsessed with the term. It works, it's another way to see the business." shared in our recent interview with Lisa Ovadia Men's Board Director of The Fashion Model Management in Milan. But when asked about client's requesting influencers Mrs Ovadia adds: "Some do, but not everyone. Some need or like it more, but in the end we all have Instagram open all day. We follow all of that! I have to say there is also a separate office, the owner of Fashion is really forward thinking so we are creating a separate division. He sees what is happening in the future, he jumped on the idea and opened a new division couple of months ago."
Finally some of our very own cover stars find their own spotlight in this social media fame, the cover star of D'SCENE's first issue Stephen James is now his own powerhouse. His @Whoiselijah has since our shoot back in 2014 when it was around then impressive 100,000 grown to over 2,3 million loyal followers. Today his IG feed is a true example of a successful yet commercialized endeavor where hardly a posted photo comes without a marketing premise. Yet, this is a great example of a post model career plan, while James was on top of the tatted guys trend, he indeed had a plan even back then: "Modelling isn't my long-term goal. You could be the hottest thing going on and the next day, you are boring. I know this lifestyle isn't going to continue forever." For James and many other fashion models, the possibilities are endless, whether they'll adjust to the next big thing – I guess we'll have to wait and see in a few more years.
Words by Zarko Davinic, images featuring Stephen James and River Viiperi by Igor Cvoro – originally published in MMSCENE ISSUE 023 – available in print & digital.