You're looking to feel a bit less basic—and the expensive hair gel your girlfriend recommended simply isn't cutting it. It's time to explore more extreme measures.
We recommend leveling up your look by staying up-to-date on the latest in fine jewelry trends. This year, it's men's bracelets that are turning heads on red carpets and taking over fashion magazines.
Men's bracelets are a great way to add a little bling to our outfit, without too much extra hassle. Just slip it around your wrist, fasten the clasp, and you're good to go. A tasteful sapphire bracelet and ring with your wedding tuxedo is extremely fashionable—and will impress every guest you shake hands with.
Similarly, by packing a jewelry box full of tasteful bracelets for your upcoming Bahamas trip, you'll have single women scrambling for your attention (even more than normal).
Let's explore the biggest men's bracelet trends of 2023….
Our Favorite 2023 Bracelet Trends for Men
We know you don't want to spend your whole life chasing the trends on men's bracelets. That's why we've chosen a few popular 2023 designs for your wardrobe that we think will live on as fine jewelry staples for years.
Men's Chain Link Bracelets
Chain bracelets for men have been trending for a few years now—and we don't see them going anywhere. That's good news if you're looking to build a jewelry collection that will work at all of your cousins' weddings.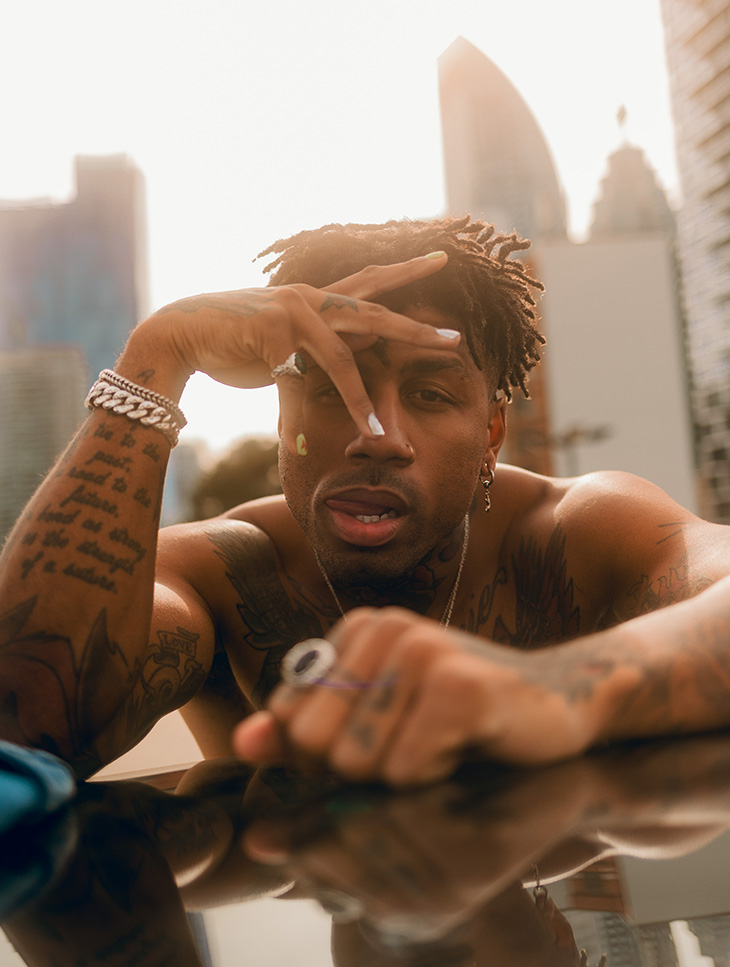 Precious metals molded into chunky chains are stylish, manly, and easy to match with any outfit. Chain bracelets are commonly stacked or paired with a matching chain necklace and occasionally matching rings. It's also common to mix metal colors when stacking chain bracelets. For example, yellow gold, white gold, and rose gold chains can be worn all at once.
Yellow Gold or White Gold Bracelets with Unique Metal Designs
When purchasing a men's bracelet, don't feel like you have to drown yourself in diamonds. Men's bracelets tend to go hard for unique designs, while adding a few tasteful gemstones only when necessary.
Thick metal designs offer a more masculine look—and are practically indestructible, which helps if you have a hands-on job requiring a lot of physical labor.
Customize your first men's bracelet with a meaningful symbol (perhaps your favorite basketball team's logo, an anniversary date, or a dragon for good measure). Appreciate elements like filigree and chain links—and don't forget to inscribe a name or phrase on the inside of the bracelet. Men's bracelets are famous for having tons of space for special messages.
Stackable Bracelets for Men
Have you ever grabbed your girlfriend's hand only to get attacked by a slew of bangle bracelets? Well, stackable bracelets are trendy for men now, too (time to turn the tables!).
When stacking bracelets, it's important to match colors and styles. A novice bracelet-wearer might start with the classic knot bracelets (maybe something that reminds you of your Boy Scout days) and graduate to something a little more impressive—like a set of white gold and ruby bracelets.
You may want to reserve your stackable bracelet sets for special occasions—or use them as a travel collection that goes where you go. Collect fine jewelry bracelets as souvenirs during your travels, or request them as gifts from friends and family so they have extra sentimental value.
Popular Gemstones for Men's Bracelets
Women's bracelets are typically studded from top to bottom in diamonds, emeralds, and sapphires. But men's bracelets are more focused on precious metals. But this doesn't mean you can't tastefully include your favorite gemstones.
We recommend using small gemstones (half a carat or less). Gems like rubies, sapphires, diamonds, and tanzanite can be scattered throughout the bracelet design and carefully woven between chain links or other metal designs. Most fine jewelry companies allow you to fully customize your men's bracelet, so you can choose virtually any natural gemstone.
If you know you want to add a splash of earth-made color but don't know which gemstone to choose, include your birthstone—or the birthstone of a loved one you want to keep close to your heart.
Fully Accessorize — The Best Men's Jewelry to Match Your Bracelet
Why stop with a men's bracelet? Once you dip your toes into the world of fine jewelry, you'll start to feel the pull of fashion. Before you know it, you'll be planning your next big jewelry purchases and deciding which necklace or ring will pair better with your favorite bracelet.
Our advice? We love starting with a simple bracelet and then building your collection outward with more stackable bracelets, then a few rings, a watch, and eventually a necklace and earring set.
Fine jewelry tends to pop more when it's all in one place. Stacked jewelry looks—and feels—more luxurious.
Alternative Ideas to Bracelets — Men's Fine Jewelry Watch Bands
Looking for an accessory that's not quite a bracelet but still perfect for a formal affair? Men's watch bands offer a classic style and added luxury to any outfit—from tuxedos to board shorts. Many men's watch bands are interchangeable and can be mixed and matched to fit your outfit of the day. It's a form of fine jewelry that's extremely customizable.
Our favorite men's watch bands are studded with gemstones like sapphires, rubies, and diamonds. Many can be customized with yellow gold, white gold, and even black gold for a daring effect.
Bracelets Are the New "It" Trend for Men
Men's jewelry is becoming extremely popular—and that's not expected to change any time soon. If you've never been a jewelry-wearer before, you may feel hesitant or self-conscious about adding the first bracelet to your collection.
We understand, and we've been there too. But the truth is, men's bracelets are extremely fashionable and make a statement that you're not afraid of living life outside of the box. It's time to challenge gender norms and wear exactly what you want.
When it comes to embracing your own personal style, the most important accessory is confidence. Find what you love and wear it proudly. When you do, you'll attract exactly the kind of people who deserve to be in your life.
All images featuring the star of Netflix's show Perfect Match Dom Gabriel photographed for MMSCENE Portraits Story by photographer Albert Hoang – discover the complete story.