From captivating urban cityscapes to places of natural wonder and beauty, the world is full of photogenic locations that can provide the perfect backdrop for whatever style of photoshoot. From professional photographers looking for new inspiration or keen amateurs just starting out, landing on the perfect scenic place can elevate photography to a whole other level.
Salar de Uyuni Salt Flats, Bolivia
The Salar de Uyuni Salt Flats, located in Uyuni, southwest Bolivia, is one of the most beautiful natural wonders on earth. It's a perfect place for those who like their photos with a touch of the surreal due to the mesmerising effect created by the expanse of pure white salt. After rainfall, a thin layer of water covers the flats, creating a stunning mirror effect that perfectly reflects the sky.
The endless horizon of the flats allows photographers to play with perspective and depth of field, creating an effect whereby distant objects appear to be floating in mid-air or even upside down.
Accessibility
In short, Uyuni isn't the most accessible destination! There are currently no direct flights from the UK and it's necessary to go via Madrid. Airfares reflect the lack of competition, so they're comparatively high.
Getting to the flats themselves will involve a bit of planning but to make things a little more straightforward, there are a number of reasonably priced tours and overnight bus trips going directly to the flats from various points across Bolivia.
Once flights and transfers are paid for, everything else, from food to accommodation is very reasonably priced.
Milan, Italy
The fashion capital of Italy is an aesthetic wonderland for photographers. Whether you're interested in street-style photography or an elegant shoot against some of the city's stunning historical buildings, there's a location for every mood and tone.
Everyone will, of course, head to the Duomo or the Arco della Pace to capture shots that are 'typically' Milanese. The architecture of both is stunning. However, competing with the stampede of tourists can be a challenge. For those wanting a more bustle-free backdrop, it's necessary to head there early morning. Not only will it be quiet, but the light will be perfect.
For something a little edgier or with a more urban tone, head to the Bosco Verticale in the Porta Nuova district. These two residential tower blocks are covered from top to bottom in greenery, making for an urban jungle-esque background.
Accessibility
It's worth bearing in mind that taking photos and videos for promotional use in places such as the Duomo will need to obtain a permit.
Direct flights to Milan are regular and it's often possible to grab some huge discounts out of season. Milan is in no way a budget-friendly city so plenty of Euros will be required for any post-shoot food and drinks.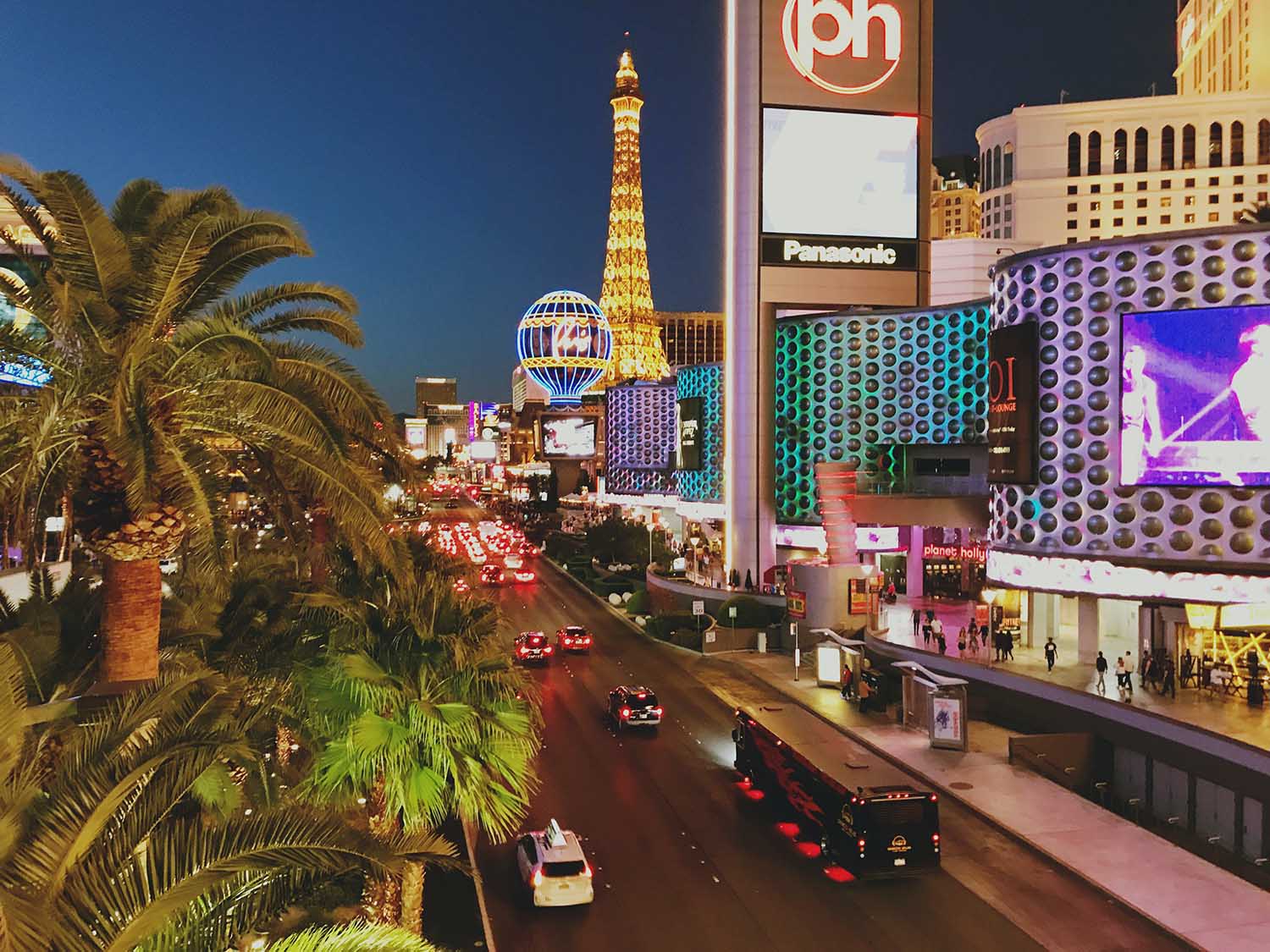 Las Vegas, USA
Nowhere is perhaps more synonymous with glamour than Vegas. Whether it's a few understated shots in one of the high-end hotels or something a little less subtle against the glitz of the strip's neon lights; Vegas is the perfect place for all kinds of shoots.
With certain casinos designed to resemble Venice, Rome or Paris it's possible to create a shoot around the globe without leaving the city!
Beyond the urban vibes of the casinos, malls and lit-up fountains, the surrounding natural landscapes offer some particularly impressive backdrops including the majestic Red Rock Canyon and the atmospheric Death Valley.
Accessibility
The strip and surrounding attractions are open 24/7 allowing photographers to schedule shoots at any given time. This does mean, however, that there are always people around, so getting a shot against a crowd-free backdrop on the strip is unlikely!
When it comes to cost, despite the luxury hotels and fine dining, the city is pretty accessible for those shooting on a shoestring. Staying just slightly off the strip can drastically cut down costs of accommodation costs and there are many low-cost carriers flying to the area, which means it's possible to get extremely reasonable airline tickets to Las Vegas, particularly if they're booked well in advance.
Paris
The Eifel Tower, the Louvre and Notre Dame are, of course, photography stalwarts but for those wanting to capture the sophistication of Paris fashion, it's perhaps worth stepping away from these prime tourist spots.
The Rue Cremieux is a charming cobblestone street in Paris with each building painted a different colour. The pastel-coloured facades and vibrant flowers make for the perfect location for a more whimsical or kitsch-style shoot.
The Parc des Buttes Chaumont is also a great location. There are plenty of interesting features to photograph including a large artificial lake, a suspension bridge, and a grotto and waterfall.
Accessibility
It's definitely worth checking out the rules regarding permission when it comes to taking photos in Paris as they vary depending on the time of day and the number of people involved in the shoot.
As with Milan, Paris is particularly easy to get to with plenty of connections available from Charles de Gaulle Airport to the city centre. When it comes to budgeting, staying in one of the neighbourhoods outside of the city and avoiding bars and restaurants right next to tourist hot spots will cut costs right down.
Practically speaking, lining up the perfect shoot should involve a fair bit of planning when it comes to ensuring budgets can be met, logistics have been carefully mapped and any relevant permits have been obtained. Once the paperwork is on order, the creativity can be unleashed!
From ethereal landscapes to sprawling urban jungles, sophisticated arty photographs to tongue-in-cheek novelty shots; the world is full of lens-beckoning locations waiting to be captured.