What better way to celebrate Father's Day than by presenting fathers with the finest dad shoes on the market? The trend has taken the fashion world by storm, embodying a sense of ease, functionality, and a touch of vintage charm. We've meticulously curated a list of the most exquisite dad shoes that will make the perfect gift for any father figure. These shoes strike the perfect balance between style and functionality, making them a must-have for any fashion-forward dad.
From timeless classics to contemporary updates, they are the ultimate footwear choice. Prepare to give the gift of unparalleled comfort and style with our curation of the finest dad shoes for the occasion of Father's Day.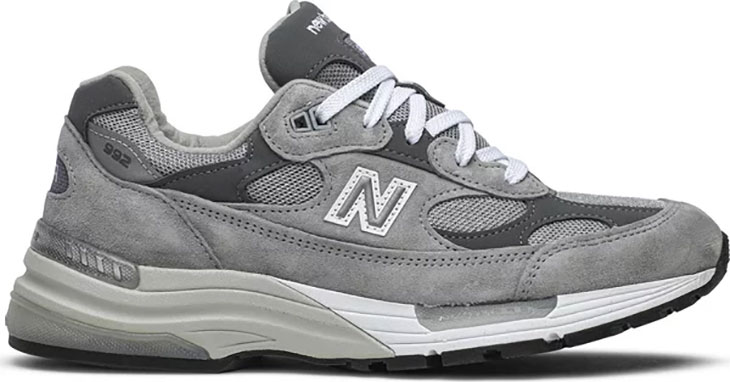 New Balance 992 Made in USA 'Grey'
The New Balance 992 Made in USA 'Grey' is a remarkable sneaker that effortlessly combines unparalleled comfort with timeless elegance. This dapper shoe is a coveted addition to the esteemed Made in US line, boasting a rich history of American craftsmanship spanning 75 years. The Made in US collection by New Balance is a true testament to the brand's dedication to domestic production, with a domestic value of 70% or more.
The New Balance 992 shoes boast an exceptional attribute – its highly responsive cushioning, delivering unmatched comfort and support. It is the ultimate choice for those seeking a shoe that effortlessly blends both form and function. Whether you're pounding the pavement on a morning jog or simply need a shoe that can keep up with your busy lifestyle, the 993 is the perfect solution.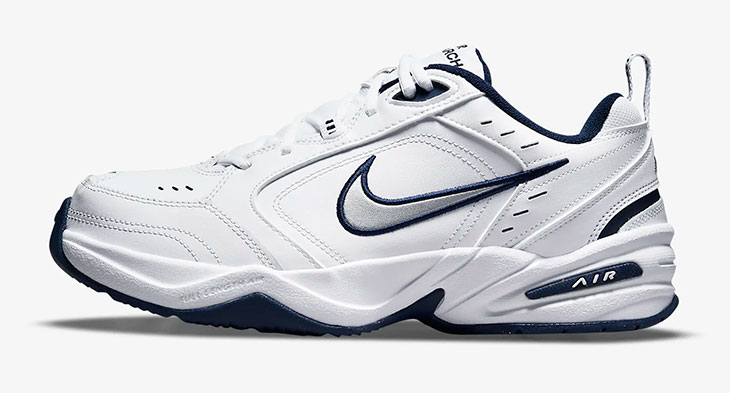 Nike Air Monarch IV 'White Navy'
Elevate your fitness game with the Nike Air Monarch IV – a perfect blend of classic style and performance. This iconic athletic shoe seamlessly blends timeless design elements with cutting-edge comfort technologies to elevate your performance. The leather upper is both stylish and functional, offering durability and support for a stable workout experience.
The Nike Air Monarch IV is the epitome of comfort with its lightweight foam and Nike Air cushioning. The foam midsole is a game-changer, absorbing impact and providing responsive cushioning that reduces strain on your joints, allowing you to move with ease. The heel's Nike Air unit provides an additional layer of cushioning, resulting in a luxurious sensation with each stride.
The Nike Air Monarch IV is the perfect choice for any physical activity, providing both style and comfort to keep you moving with ease. The versatility of its design and the neutral color options make it an ideal choice for pairing with your preferred workout attire.
JJJJound x ASICS Gel Kayano 14 'Silver Black'
A first-of-its-kind partnership, the JJJJound x ASICS Gel Kayano 14 'Silver Black' brings together a famous Montreal design studio and a revered Japanese sportswear label. The collaboration pays homage to the shoe's original debut in 2008, maintaining its signature style while incorporating modern touches.
The shoe's upper boasts a chic blend of airy white open-mesh material, ensuring both comfort and a feather-light touch. The incorporation of lustrous metallic silver overlays exudes an air of refinement, while the interplay with bold black tiger stripes results in a visually captivating composition. The unique combination of textures and hues creates a truly stylish and eye-catching look.
The JJJJound x ASICS Gel Kayano line boasts a distinct charm, with JJJJound and ASICS logos adorning the sockliner and lateral heel of each shoe in an unmatched fashion. The project's collaborative essence is highlighted by this understated yet purposeful detail, seamlessly uniting both brands.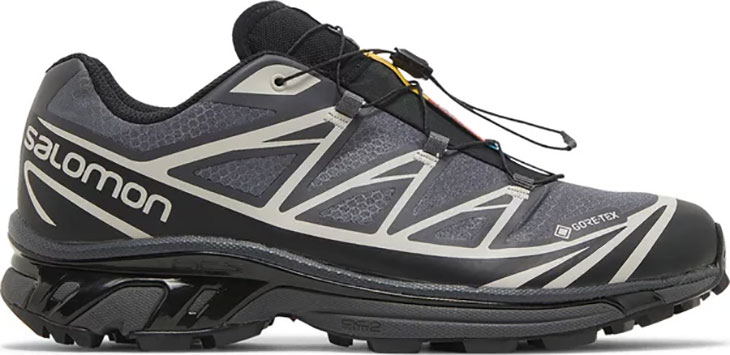 Salomon XT-6 GORE-TEX 'Black'
High-performance footwear with roots in long-distance running, the Salomon XT-6 was first released in 2013. This low-top shoe was designed with an emphasis on performance and comfort to satisfy the needs of athletes. Its cutting-edge design makes it a top pick for serious runners and adventurers who value longevity and performance.
The XT-6's innovative toggle lace system provides a snug and adjustable fit, preventing the foot from moving around during strenuous activity. The mesh upper and TPU film provide superb breathability and pliability, enabling the foot to move naturally without compromising the shoe's structural integrity. The distinctive Agile Chassis System midsole delivers great responsiveness and cushioning for tackling a wide range of terrains. These Salomon sneakers are further improved with the Mud Contagrip outsole, which provides excellent grip even in wet conditions.
The XT-6's popularity stems not just from its technical superiority, but also from its status as a canvas for artistic collaboration. Famous labels like Palace and Dover Street Market have taken use of the silhouette to share their own design philosophies by incorporating their own aesthetics and artistic touches into the shoe. The XT-6, thanks to these partnerships, has gone from being a functional piece of equipment to a trendy piece of streetwear.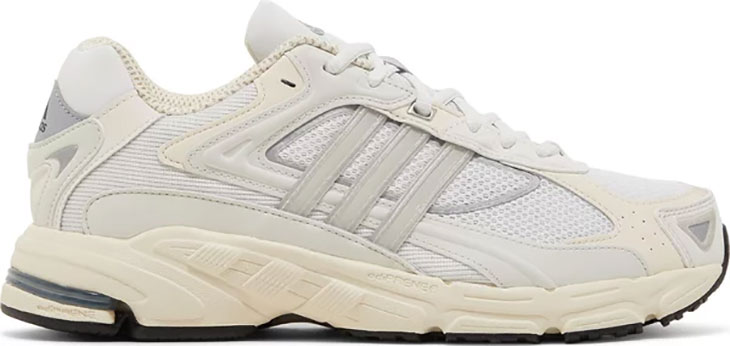 Adidas Response CL 'Chalk White'
The trendy adidas Response CL model embraces the charmingly retro dad aesthetic, seamlessly fusing a timeless athletic style with suede overlays that are expertly stitched, creating a modern yet nostalgic appearance. This comfort-focused design boasts a plush EVA midsole for exceptional cushioning without compromising on weight. The effortless stride of these shoes provides optimal comfort for any occasion.
The adidas Response CL boasts a lace closure for a customizable and secure fit that caters to your individual style. The combination of a textile and mesh upper, embellished with suede overlays, provides both durability and a fashionable touch. The carefully selected materials used in the construction of this piece provide optimal breathability and flexibility, ensuring your feet remain cool and agile.
IN CASE YOU MISSED IT: Nike's .SWOOSH Releases Its First Virtual Collection